Image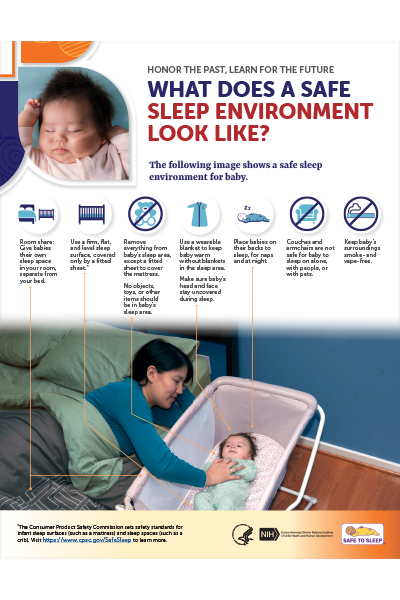 This 1-page handout shows a safe infant sleep environment and lists ways to reduce the risk of SIDS and other sleep-related deaths among American Indian/Alaska Native babies. (Available in sets of 50 sheets)
This 1-page handout shows a safe infant sleep environment and lists ways to reduce the risk of Sudden Infant Death Syndrome (SIDS) and other sleep-related deaths among American Indian/Alaska Native (AI/AN) babies. This item was created as part of the Healthy Native Babies Project, a collaboration among the NICHD, AI/AN organizations, and Tribal representatives focused on sharing safe sleep messages with and within AI/AN communities.
Preferred Citation:
Eunice Kennedy Shriver
National Institute of Child Health and Human Development, NIH, DHHS. (2023). Honor the Past Learn for the Future: What does a safe sleep environment look like? (American Indian/Alaska Native Outreach) (23-HD-7462B). Washington, DC: U.S. Government Printing Office.
Download PDF