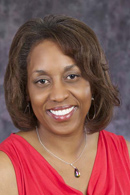 Dr. Valerie Maholmes, Ph.D., has been appointed Chief of the new Pediatric Trauma and Critical Illness Branch, as announced in an email from Dr. Catherine Spong, M.D., Director of the Division of Extramural Research.
Dr. Maholmes had been serving as the Acting Chief of the Pediatric Trauma and Critical Illness Branch since November 2012. She also manages the Child and Family Processes/Child Maltreatment and Violence Research Program in the Child Development and Behavior Branch at Eunice Kennedy Shriver National Institute of Child Health and Human Development.
Dr. Maholmes also co-chairs the National Institutes of Health Child Abuse and Neglect Working Group and is a member of other federal agencies which address issues such as child maltreatment, teen dating violence, and early intervention. In 2003, she was awarded the Science Policy Fellowship, which is sponsored by the Society for Research in Child Development and the American Association for the Advancement of Science. Dr. Maholmes focuses her efforts on different relationship issues that arise with children, including abusive home relationships, bullying and cyberbullying, and other at risk areas in a child's development.
Before joining the NICHD, Dr. Maholmes was a faculty member at the Yale School of Medicine in the Child Study Center's School Development Program. She earned her Ph.D. in psychology from Howard University and completed her post-doctoral training at the Yale Child Study Center.
"Already, she has forged important new connections between the developing Branch and both other agencies and the research community, and is highly skilled at building creative partnerships among stakeholders," Dr. Spong said. "Her passion for promoting child health, her ability to work with others, and her wealth of expertise and experience with the developmental impacts of pediatric trauma, injury, and acute care, will be of great service to the Branch and the Institute as a whole."
###
About the Eunice Kennedy Shriver National Institute of Child Health and Human Development (NICHD): The NICHD sponsors research on development, before and after birth; maternal, child, and family health; reproductive biology and population issues; and medical rehabilitation. For more information, visit the Institute's website at http://www.nichd.nih.gov/.