Risk highest for African-American infants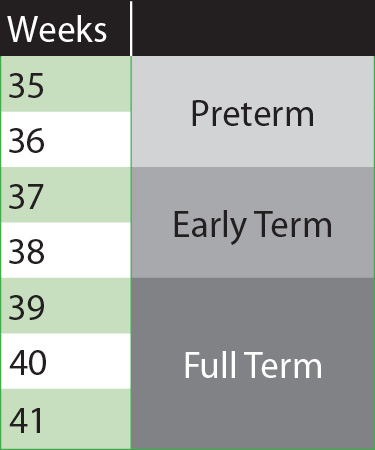 Infants born before 36 full weeks in the womb are considered preterm. Those born after 36 weeks traditionally have been considered to be full term. The findings of this study indicate that, even among infants born at term, those born at 37 or 38 weeks of pregnancy (early term) face a higher risk of dying before age 1 than those born from 39 to 41 weeks (full term).
Infants born in the 37th or 38th week of pregnancy have a higher risk of dying before age 1 than do infants born between 39 and 40 weeks, according to researchers at the National Institutes of Health, the U.S. Food and Drug Administration, and the March of Dimes.
"Infants born at 37 weeks or greater are considered term and have traditionally been considered as a uniform group," said first author Uma M. Reddy, M.D., of the NIH's Eunice Kennedy Shriver National Institute of Child Health and Human Development (NICHD). "Our study shows that there are often marked differences in the health of infants born in the early part of this period and those born in the latter part."
To mark the distinction between these two groups, the researchers referred to infants born at 37 and 38 weeks as early term births, and those born from 39 to 41 weeks as full term.
Other authors of the study were Marian Willinger, Ph.D., of the NICHD, the paper's senior author; March of Dimes researchers Vani R. Bettegowda, M.H.S., Todd Dias, M.S., and Tomoko Yamada-Kushnir, M.P.H., M.S.; and Chia-Wen Ko, Ph.D., of the FDA.
Their findings were published online in Obstetrics and Gynecology.
To conduct the study, the researchers reviewed data from more than 46 million infants born in the United States between 1995 and 2006. The records were compiled by the Centers for Disease Control and Prevention's National Center for Health Statistics (NCHS). The database linked all infant death certificates in a given year to their corresponding birth certificates in the same or preceding year.
The researchers found that between 1995 and 2006, the proportion of infants born at 37 or 38 weeks of gestation increased from 22 percent to 29 percent. During this time, the percentage of full term births fell from 60 percent to 54 percent. Death rates for early term births were higher than were those for full term births among all racial and ethnic groups in the study.
Overall, the researchers found that the rate of deaths for infants born during the entire term period has fallen in the past decade. However, their analysis revealed large differences in the decline in the infant death rate between racial and ethnic groups during the early term period. For example, over the 11-year period of the analysis, the infant death rate for babies born at 37 weeks fell by 35 percent and 22 percent for Hispanics and non-Hispanic whites respectively, and by 6.8 percent for non-Hispanic African-American infants. The rate of deaths within the first month of life for non-Hispanic black infants born at 37 weeks did not decline at all, and in 2006 was the same as the neonatal mortality rate in 1995 for Hispanic and non-Hispanic infants born at 37 weeks.
The researchers also found that infants born at 37 weeks were twice as likely to die before their first birthday (3.9 deaths for every 1,000 births in 2006) than those born at 40 weeks (1.9 deaths per 1,000 births). Common causes of death included birth defects, sudden infant death syndrome (SIDS); lack of oxygen, either in the womb or during birth; and accidents.
Dr. Reddy said that future studies on the circumstances surrounding early term births—such as the reasons for the early delivery, medical information on the pregnancy, and the health status of mother and baby—may provide information on the reasons for the higher death rates seen in early term infants when compared to full-term infants.
"Our findings show that the term period should not be treated uniformly; infants born at early term are a higher risk group than those born at full-term," she said.
The study authors also wrote that interventions were needed to decrease the disparity between non-Hispanic black infants and other groups.
###
About the Eunice Kennedy Shriver National Institute of Child Health and Human Development (NICHD)
The NICHD sponsors research on development, before and after birth; maternal, child, and family health; reproductive biology and population issues; and medical rehabilitation.  For more information, visit the Institute's Web site at http://www.nichd.nih.gov/.
About the National Institutes of Health (NIH)
NIH, the nation's medical research agency, includes 27 Institutes and Centers and is a component of the U.S. Department of Health and Human Services. NIH is the primary federal agency conducting and supporting basic, clinical, and translational medical research, and is investigating the causes, treatments, and cures for both common and rare diseases. For more information about NIH and its programs, visit http://www.nih.gov.