Finding has implications for understanding sleep disturbances, developmental disorders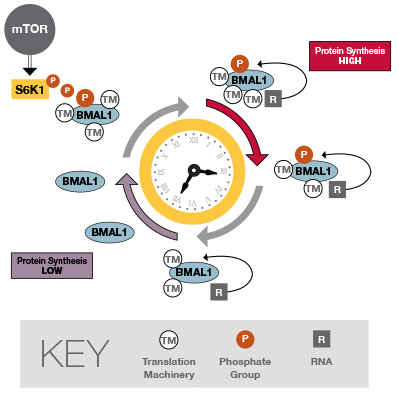 Researchers funded by the National Institutes of Health have discovered how a major pathway that initiates protein synthesis does so by using an enzyme as a go-between to activate the body's internal clock.  The findings, appearing in Cell, provide insight into how a cell's internal machinery cues the production of proteins at the time of day when they're needed. 
The study was conducted by Jonathan Lipton, M.D., Ph.D., and Mustafa Sahin, M.D., Ph.D., at Boston Children's Hospital and was funded in part by NIH's Eunice Kennedy Shriver National Institute of Child Health and Human Development and the National Institute of Neurological Disorders and Stroke.
Background
Drs. Lipton and Sahin study Tuberous Sclerosis Complex (TSC), a rare disorder resulting in numerous benign tumors in the brain and other organs, such as the kidneys, heart, eyes, lungs and skin, as well as autism and seizures.
"People with TSC have pronounced sleep disturbances," said Dr.  Lipton. "They wake up in the middle of the night and resume their activities, as if it were the middle of the day.  This completely disrupts families' lives."
TSC results from mutations in either of two genes: TSC1 and TSC2.  The genes control the mTOR pathway, a biological pathway that controls the process by which genetic sequences are translated into RNA, the molecular template from which proteins are made.  Given the sleep disturbances seen in TSC patients, the two researchers decided to investigate how the mTOR pathway might be involved in circadian rhythms, the physiological changes that take place daily in tandem with the 24-hour cycle of day and night.
Results of Study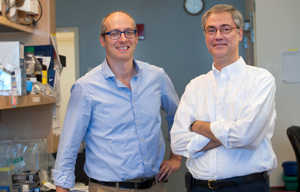 Study authors Drs. Jonathan Lipton and Mustafa Sahin of Boston Children's Hospital.
The researchers identified a connection between the mTOR pathway and the control of circadian rhythms. When it's triggered by the mTOR pathway, S6K1 – an enzyme that adds a phosphate group to other molecules – modifies BMAL1, a protein central to the circadian clock.  This modification results in the interaction of BMAL1 with the cellular machinery responsible for making protein. The activity of both the mTOR pathway and BMAL1 is cyclic during the day/night cycle, thereby stimulating more protein production at certain times of the day than others.
Next Steps
Protein synthesis is central to the cell's functioning.  BMAL1 helps to ensure that the right protein is made at the appropriate time of day.  If the timing of protein synthesis is thrown off, it might result in a shortage of some proteins at critical times, and an oversupply of others.  Such aberrant protein production could potentially affect the structure and functioning of a variety of different kinds of cells, in the process contributing to developmental disorders, neurodegenerative diseases and cancers.  Moreover, disturbances in circadian rhythm have been linked to obesity, diabetes, cardiovascular disease and inflammation.  Understanding BMAL1 and its functions could one day lead to an understanding of these conditions as well.
Reference
Lipton JO,  Yuan E, Boyle L, Ebrahimi-Fakhari D, Kwiatkowski E, Nathan A,  Güttler T, Davis F, Asara J,  and Sahin M. The Circadian Protein BMAL1 Regulates Translation in Response to S6K1-Mediated Phosphorylation. Cell (2015).