Initiatives and findings from NIH institute cover women's health, male contraception and more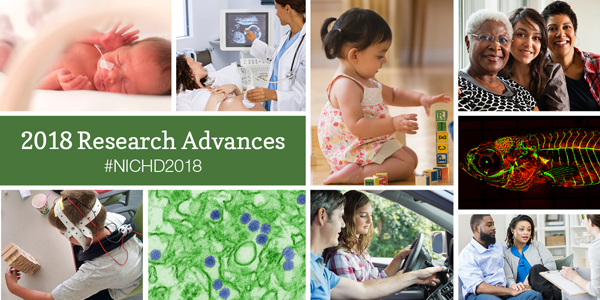 WHAT:
As 2018 winds down, a new slideshow highlights a selection of initiatives, therapies, and scientific advances supported by NIH's Eunice Kennedy Shriver National Institute of Child Health and Human Development (NICHD).
Of note, years of NICHD-supported research culminated in several product approvals by the U.S. Food and Drug Administration (FDA) in 2018.
In May, FDA approved an anti-HIV drug, Truvada®, for use in at-risk adolescents. The FDA's decision was informed by an NICHD-supported study, which found that when the drug was taken appropriately by teens, it can be effective at reducing the risk for new HIV infections.
In July, FDA approved the first pill, Orilissa™, for treating pain associated with endometriosis. Endometriosis is a common gynecological disease that can cause debilitating pain and infertility. Foundational research that led to the new drug was supported by NICHD's small business innovation research program.
In August, FDA approved a new vaginal ring contraceptive, Annovera™, that offers birth control protection for an entire year with a single ring. NICHD's Contraceptive Clinical Trials Network performed important clinical studies demonstrating the product's safety and effectiveness.
In addition, the NICHD-led Task Force on Research Related to Pregnant Women and Lactating Women (a provision of the 21st Century Cures Act) drafted and submitted its report to the Secretary of Health and Human Services. The report makes recommendations for research on drugs and therapies used by pregnant women and nursing mothers, including ways to promote their inclusion in studies and better train clinicians in obstetric and lactation pharmacology and therapeutics.
NICHD-supported researchers also made many scientific advances in diverse fields, including women's health; infertility and pregnancy loss; labor and delivery; infant, child and adolescent health; intellectual and developmental disabilities; infectious diseases; rare diseases; rehabilitation and functional recovery; and basic science research. Visit the new slideshow to learn more.
WHO:
Diana W. Bianchi, M.D., NICHD Director, is available for comment.
###
About the Eunice Kennedy Shriver National Institute of Child Health and Human Development (NICHD): NICHD conducts and supports research in the United States and throughout the world on fetal, infant and child development; maternal, child and family health; reproductive biology and population issues; and medical rehabilitation. For more information, visit NICHD's website.
About the National Institutes of Health (NIH): NIH, the nation's medical research agency, includes 27 Institutes and Centers and is a component of the U.S. Department of Health and Human Services. NIH is the primary federal agency conducting and supporting basic, clinical, and translational medical research, and is investigating the causes, treatments, and cures for both common and rare diseases. For more information about NIH and its programs, visit http://www.nih.gov.