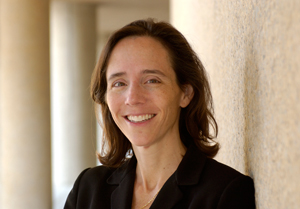 The Eunice Kennedy Shriver National Institute of Child Health and Human Development (NICHD) was established in 1962 with an all-encompassing goal of investigating human development throughout the entire life process, including the study of physical and intellectual developmental disabilities, fertility, pregnancy, and childhood diseases. Today, we continue this legacy by conducting and supporting many exciting initiatives and projects in our mission.
NICHD had an extremely productive year in 2015, and the following are just a few of the many scientific advances made possible by our institute. This past year also brought about significant administrative change, as Alan Guttmacher, M.D., NICHD's Director since 2010, retired in September, and Della Hann, Ph.D., was appointed to lead our Division of Extramural Research in June. As we enter into 2016, I look forward to guiding our institute, our passionate and dedicated staff, as we continue to make research advances that address unique health needs and support the well-being of infants, children, teenagers, and adults in communities across the United States and around the world.
Warm regards,
Catherine Y. Spong, M.D.
Acting Director
Eunice Kennedy Shriver National Institute of Child Health and Human Development
National Institutes of Health
Improving the Health of Preemies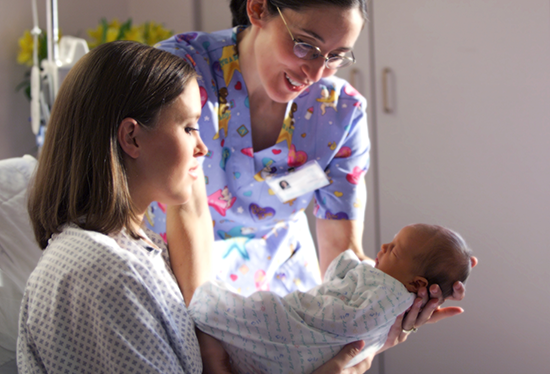 Stock image of mother, infant, and nurse.
Preterm birth is a common cause of long-term disabilities and infant death, but according to an NICHD-funded study published in September, survival rates are increasing for extremely preterm infants. After reviewing birth records of more than 35,000 extremely premature infants, the authors found that more babies are surviving, with the rate increasing from 52 percent in 1993 to 65 percent in 2012. Not only are more babies surviving, more are surviving without major illnesses.
Research advances in newborn care have certainly contributed to these improvements. In an NICHD-supported study published in March, researchers showed that teaching mothers how to interact with their preterm babies—recognizing subtle clues of hunger, providing social and physical stimulation—resulted in better weight gain and growth for the infants. Such benefits are important because insufficient weight gain in preemies increases the risk of delayed development of motor skills and cognitive abilities.
In June, researchers reported a technique to improve the outcomes of preterm infants. Cord milking, which pushes blood through the umbilical cord into an infant's abdomen by applying light pressure, offers several advantages—increased blood flow to and from the heart, higher red blood cell levels, and higher blood pressure—for preterm babies delivered by cesarean. However, an international resuscitation committee recently cautioned against cord milking in infants who are less than 29 weeks and in need of immediate resuscitation, and NICHD is supporting research to learn more.
Encouraging Healthy Behaviors
Stock image of family and running children.
NICHD promotes wellness across all ages and stages of health. In January, an NICHD-funded study suggested that offering flexible work schedules may be advantageous for employees and result in more sleep, likely due to less conflict between work and family responsibilities.
In August, a study led by NICHD researchers showed that activity breaks lasting only three minutes may be beneficial for child health. The team found that kids 7 to 11 years old who walked briefly every half hour had lower blood levels of sugar, insulin, and fat, compared to kids who remained seated continuously for three hours. While activity lasting at least 30 minutes benefits health, it can be difficult to add long stretches of exercise into the day. This study suggests that even short periods of activity can improve long-term health.
Later in the year, NICHD-funded researchers reported a link between antibiotic use and weight gain in healthy children, showing that the drugs' effects on weight can last much later in childhood than previously reported. The researchers used information from the electronic health records of nearly 164,000 children and looked for links between the number of antibiotic prescriptions and changes in body mass index (BMI) over time. They found that some BMI changes were reversible, with children experiencing a temporary weight gain after initial antibiotic use. However, as children got older and were prescribed more antibiotics, weight gain became more persistent. The team found that 15-year-olds who were prescribed antibiotics at least 7 times weighed roughly 3 pounds more than their peers. With nearly 263 million antibiotic prescriptions ordered in the United States each year, research on the effects of antibiotic use over time is beneficial for physicians as they weigh the risks and benefits of prescribing the drugs.
Focusing on Women's Health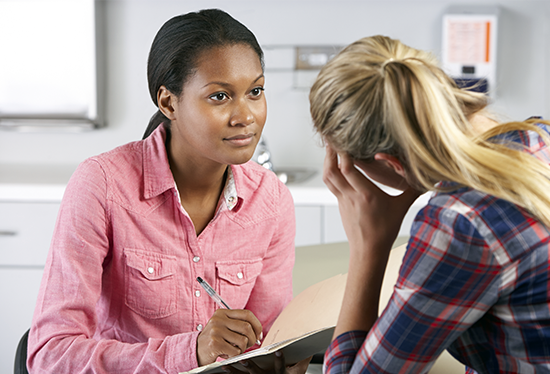 Stock image of doctor with patient.
Women experience unique health issues and conditions, from pregnancy and menopause to gynecological conditions, such as uterine fibroids and pelvic floor disorders.
In August, NICHD-supported researchers found that a high proportion of women experience pelvic pain that goes unreported and therefore, untreated. Unsurprisingly, reports of pain were highest for women diagnosed with endometriosis, a disorder that occurs when tissue that normally lines the inside of the uterus grows outside of the uterus. However, of the women without any pelvic condition, one-third of those surveyed reported a high degree of ongoing pain or pain during their menstrual cycle. The researchers recommend that physicians consider asking about pain, even during routine visits. The study team plans to explore the causes of pelvic pain in women not diagnosed with any pelvic condition.
Earlier in the year, NICHD-funded researchers developed a computer model to better understand pelvic organ prolapse, a condition that occurs when pelvic muscles and tissues weaken, and the uterus, bladder, or rectum descends into the vagina or protrudes beyond the vaginal opening. More than 300,000 surgeries are performed in the United States each year to treat this condition. The authors propose that their model may be useful for surgical planning and understanding how structural variations affect prolapse.
Optimizing Rehabilitation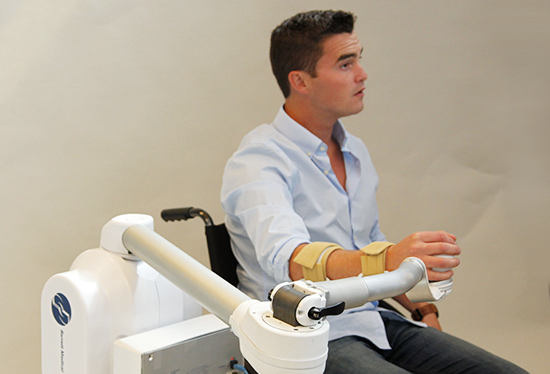 A man uses a robotic arm for rehabilitation therapy. Credit: William Townsend, Barrett Technology
Recovery from injuries caused by accidents or health conditions can be a long and stressful process. NICHD supports research to improve rehabilitation and help people regain a high quality of life. In May, a series of studies funded in part by NICHD described a new standardized system to measure and evaluate health outcomes of spinal cord injuries, which often cause long-term disability and impair mobility, bowel function, and psychological well-being. Prior to this study, there were no standard metrics to measure and monitor the unique issues caused by spinal cord injuries, hindering rehabilitation progress. Improved management of the physical and psychological needs of patients will help clinicians provide better health care, as well as help researchers assess new treatment approaches.
For those who have lost a limb, NICHD-supported researchers continue to develop remarkable technologies that improve the fit and function of prosthetics, enhancing the motor skills of amputees. Some of these inventions have additional applications, too. In May, a team using a robotic arm designed by NICHD grantee Barrett Technology won the annual Amazon Picking Challenge, which seeks to optimize the abilities of robots for use in warehouses. Advances in motor qualities such as grip, gait, and stability are critical for efficient mobility for amputees, and the reduction of adverse side-effects, like skin infections at anchor sites, also are areas of current research.
Improving Care for People with HIV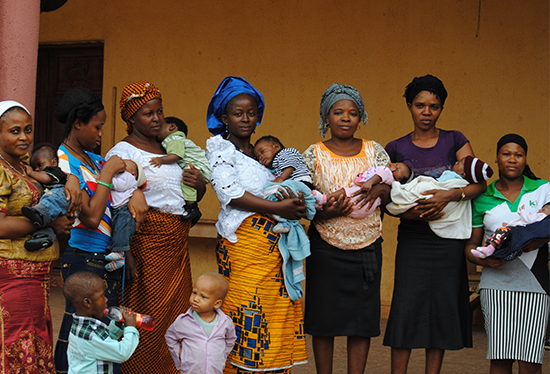 Pregnant women and their children outside their church in Nigeria. Credit: Dina Patel, Healthy Sunrise Foundation
HIV/AIDS remains a persistent health problem in the United States and around the world, with approximately 37 million people with HIV, including 2 million new infections in 2014. Improvements in HIV screening, prevention, and treatments promise to reduce new cases and increase the quality of life for people with HIV.
In March, NICHD researchers and colleagues reported that a drug commonly used to treat genital herpes, valacyclovir (brand name Valtrex), is effective at reducing levels of HIV in people who did not have genital herpes. New drugs are especially important in cases where the virus develops resistance against conventional anti-HIV drugs.
Later in the year, NIH-funded researchers reported that U.S. children who were infected with HIV as babies may not have sufficient immunity to ward off measles, mumps, and rubella (MMR) despite vaccination. The study showed that children who received anti-HIV drugs before MMR vaccination were more likely to have sufficient immunity. The investigators recommended that those who received MMR vaccinations before starting HIV treatment should ask their physicians if additional vaccine doses are needed.
In October, a study supported by NICHD reported the effectiveness of church-based HIV screening in rural Nigeria. More than 3,000 women from 40 churches participated. Using a monthly baby shower as a platform, half of the churches directly provided HIV testing, health information, and counseling, while the remaining churches encouraged women to visit health care centers. The authors reported that pregnant women with access to testing services on-site were 11 times more likely to receive HIV testing and 6 times more likely to get treatment. The study authors are currently exploring the possibility of replicating this program in other high-risk communities, including in the United States.
Understanding and Treating Autism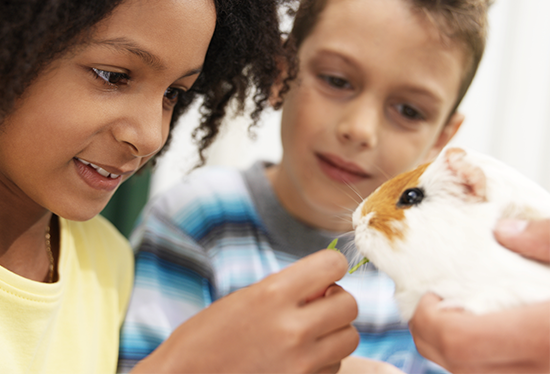 Stock image of children with guinea pig.
Autism spectrum disorder is a complex developmental condition that affects how a person behaves, interacts with others, communicates, and learns. Understanding the causes of autism and developing accurate screening tests will inform studies that seek to treat the disorder and manage symptoms.
In May, NICHD-funded researchers reported that the presence of animals can ease social anxiety in children with autism. The team measured anxiety in children during potentially stressful group situations—reading aloud to peers, play time with toys, and supervised play with guinea pigs. While anxiety rose in the first two situations for kids with autism, anxiety fell significantly in the presence of the guinea pigs. Because companion animals offer unconditional acceptance, the researchers speculate that the animals' presence allowed the children to feel more secure.
Later in the year, two studies revealed notable differences in brain activity between youths with or without autism, as well as between those with different types of autism. One study showed that disrupted signaling networks in the brain were linked to impaired social behaviors. This observation may explain why kids with autism have trouble communicating. It also identifies potential brain imaging markers that could be used to evaluate the effectiveness of experimental treatments.
In the other study, researchers found that children with autism who are overly sensitive to stimuli, such as noises or physical contact, have different brain responses compared to children with autism who are less affected by this stimuli. Understanding these differences promises to inform the development of tailored interventions for autism, which presents a wide range of symptoms.
Promoting Healthy Fetal Development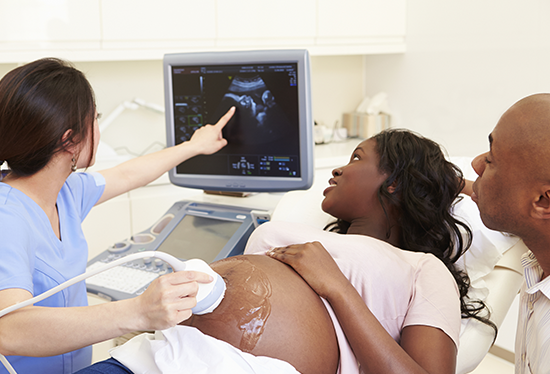 Stock image of ultrasound exam.
Prenatal care includes routine tests, such as ultrasounds, that help physicians monitor and ensure that a pregnancy is proceeding normally. In September, NICHD researchers reported racial and ethnic differences in fetal growth, indicating that current ultrasound standards may misclassify a significant percentage of the fetuses of minority mothers as being too small despite normal development. To monitor fetal growth, many physicians rely on older reference charts derived from data collected in the 1980s from mostly middle-class, white women. Today, mothers in the United States tend to have different demographics. The authors suggested that future studies that seek to determine fetal growth standards should take racial and ethnic differences into account.
Also in September, NICHD-funded researchers found that brain scans can identify the best candidates for surgery to treat prenatal spina bifida, a condition that occurs when the spinal cord does not develop normally. Fetuses with enlarged ventricles—the fluid-filled cavities inside the brain—are less likely to benefit from prenatal surgery, and they typically require a second surgery after birth. Because of surgical risks to both mother and fetus, the findings suggest that, in these cases, it may be better to wait until after delivery to perform the corrective surgery.
Ensuring Medicines Are Safe for Children and Pregnant Women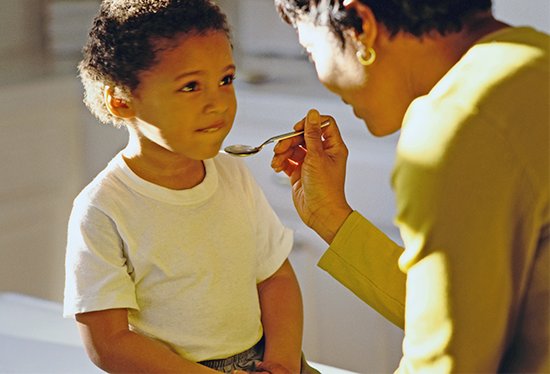 Stock image of child receiving medicine.
The Best Pharmaceuticals for Children Act (BPCA) was passed by Congress in 2002 to study the safety, dose, and efficacy of medications in children. NICHD oversees many studies in accordance with this Act and supports research on the safety and efficacy of drugs prescribed to pregnant women.
In May, thanks in part to NICHD-funded research under the BPCA, the Food and Drug Administration (FDA) approved the use of the antibiotic meropenem to treat abdominal infections in infants less than three months of age. Meropenem is effective against a wide variety of bacteria, and for years, physicians lacking effective alternatives prescribed the drug to infants with serious abdominal infections. As a result of the NICHD study, doctors now have an approved therapy, along with dosing and safety information.
In October, NICHD- and BPCA-supported researchers found that lithium, a drug prescribed to adults for bipolar disorder, also is safe and effective in children. Bipolar disorder causes depression and extreme shifts in mood and energy. In addition to being effective, lithium did not cause significant weight gain in children, a common side effect of similar drugs.
Earlier in the year, NICHD-funded researchers evaluated the use of antidepressants during pregnancy because of a potential link between the drugs and a life-threatening circulation problem, called persistent pulmonary hypertension, in newborns. The study showed that one type of antidepressant, selective serotonin reuptake inhibitors, carries a risk for newborns, but the risk was smaller than previously reported. The results will help doctors weigh the risks and benefits of prescribing antidepressants for pregnant women.
Advancing Knowledge of Rare Diseases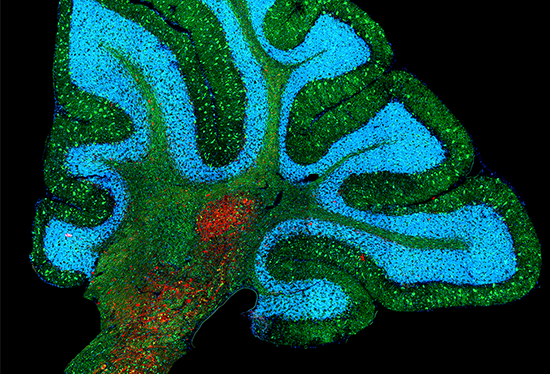 Microscopy image of brain tissue. Credit: NICHD
A disease is considered rare in the United States if it affects fewer than 200,000 people, but collectively, there are more than 7,000 rare diseases, not including ones that lack a diagnosis. In April, an NICHD-funded study revealed a new genetic disorder called CHOPS syndrome, named after its symptoms (cognitive impairment and coarse facies, heart defects, obesity, pulmonary involvement, and short stature and skeletal dysplasia). Originally, the people in the study were thought to have had another disease with overlapping features called Cornelia de Lange syndrome (CdLS). Although CdLS is linked to other genes, the team found that both diseases are caused by similar defects at the cellular level. The results also underscore the importance of these cellular processes in the context of healthy fetal development.
The following month, NICHD researchers identified genetic variations linked to heterotaxy, a condition that occurs when organs form abnormally or in the wrong location within the body. Many people with heterotaxy have heart defects. Of the genes identified in the study, some had known disease roles in animal models but not in people, while others confirmed the role of genetic factors identified in previous patient studies. Future work exploring the function of these genes may offer fundamental knowledge that advances research on more common disorders that affect the heart, gastrointestinal tract, liver, and spleen.
Improving Cognitive Skills Across All Ages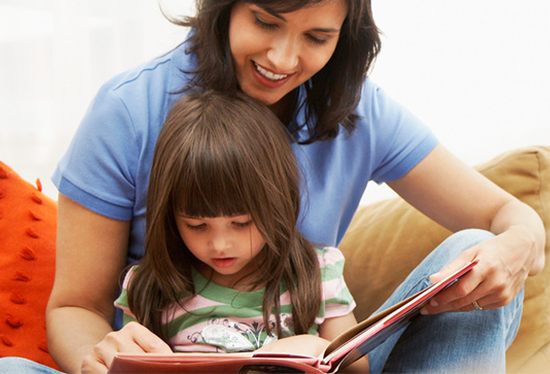 Stock image of parent and child reading.
Skills like reading and memory are important throughout life but can change with age. NICHD-supported research seeks to understand and help people overcome learning disorders and other developmental roadblocks.
In October, NICHD-funded scientists reported on a solution that may help children from disadvantaged backgrounds who are starting kindergarten avoid summer loss—the tendency to forget during summer break what was learned during the school year. A special Head Start program geared towards parents, called REDI-P, offered home visits from educational counselors who provided learning materials, such as books and games, and coached parents on using them. The children of parents who participated in REDI-P had much higher retention of literacy and learning skills taught in Head Start, and they also continued doing well in school. Success—or struggle—in kindergarten often foretells how well children do in their later academic career, and early intervention can help sustain academic performance.
The following month, NIH announced a new initiative to find biological markers of Alzheimer's disease in people with Down syndrome, who have a high risk of developing the disease. As the average lifespan of people with Down syndrome has increased to 60 years, understanding why many, but not all, develop Alzheimer's is critical. The NICHD-supported endeavor will use brain imaging and biological samples to identify predictive markers that measure the onset and progression of dementia. These markers may be useful for early diagnosis and determining the effectiveness of promising treatments.
Leading Research to Understand and Treat Infertility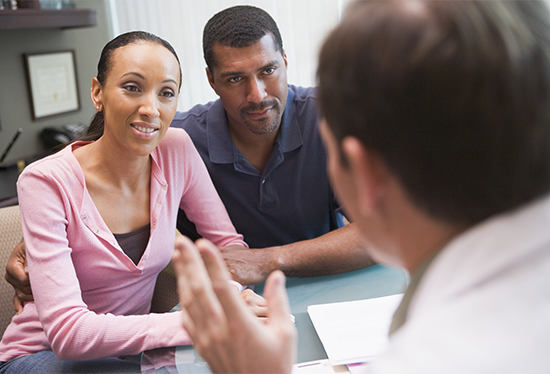 Stock image of couple and doctor.
Approximately 15 percent of U.S. couples are unable to become pregnant in their first year of trying, and NICHD supports research to understand both the causes of infertility and treatments to help couples conceive.
After analyzing data from more than 450 couples attempting to conceive, NICHD researchers identified specific health risks that may undermine a man's fertility: a physically demanding job, high blood pressure, and use of multiple medications. All three of these factors reduced semen quality, which is determined by the number of sperm, their shape, and their ability to move. The study, published in March, also suggested that these risks factors can likely be mitigated by medical care or by changing job-related behaviors.
Later in the year, NICHD-funded researchers reported that the standard treatment for couples with unexplained infertility, clomiphene, is more effective than a potential alternative treatment, letrozole. Both drugs stimulate the ovaries to release eggs but through different methods. Letrozole seemed promising because earlier studies indicated that it was effective in treating a different infertility disorder called polycystic ovary syndrome. However, in the latest study of 900 couples, the authors discovered that clomiphene treatment results in more live births and fewer multiple pregnancies, compared to letrozole.
Fostering Efforts to Understand the Placenta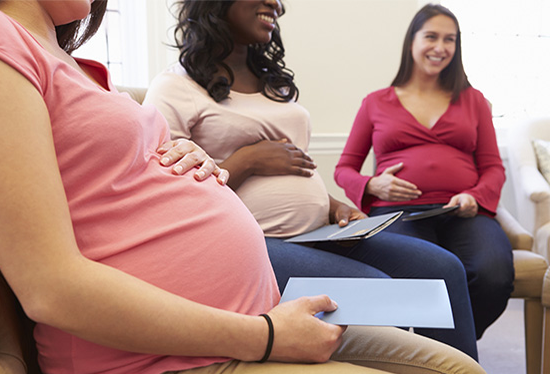 Stock image of pregnant women.
In September, NIH invested $46 million in the Human Placenta Project, an initiative to address key, unanswered questions about the placenta: How does a healthy placenta develop during pregnancy? What role does it play in a person's long-term health? What are the factors that lead to problems with placental development and function, and are they reversible? Answering these and other questions will enable physicians to monitor pregnancies better and ultimately help prevent adverse outcomes like preeclampsia, premature birth, or stillbirth. The findings also may provide insight on why some people develop chronic diseases later in life, as some adverse pregnancy outcomes have been linked to a higher risk of future health problems—for both mom and baby—such as heart disease.
The placenta—a critical but poorly understood organ—serves as the developing fetus's lungs, kidneys, liver, and gastrointestinal, endocrine, and immune systems. It also produces hormones that maintain the pregnancy and prevents the mother's immune system from attacking the fetus. Current studies are limited largely to post-delivery examination of the placenta, but advanced, real-time monitoring may catch problems at treatable stages.
In the initial round of funded studies, researchers will develop safe, noninvasive methods to monitor the placenta throughout the entire pregnancy. Some teams also will identify environmental factors, such as smoking or obesity, that may affect the function of the placenta. Investing in this research will provide the foundation for improving the health of mothers and children at the earliest possible stages.
References
Improving the Health of Preemies
Stoll BJ et al. Trends in care practices, morbidity, and mortality of extremely preterm neonates, 1993-2012. Journal of the American Medical Association (2015)
White-Traut RC et al. Influence of H-HOPE intervention for premature infants on growth, feeding progression and length of stay during initial hospitalization. Journal of Perinatology (2015)
Katheria AC et al. Umbilical cord milking versus delayed cord clamping in preterm infants. Pediatrics (2015)
Encouraging Healthy Behaviors
Olson R et al. A workplace intervention improves sleep: results from the randomized controlled Work, Family, and Health Study. Sleep Health (2015)
Belcher BR et al. Effects of interrupting children's sedentary behaviors with activity on metabolic function: a randomized trial. The Journal of Clinical Endocrinology and Metabolism (2015)
Schwartz BS et al. Antibiotic use and childhood body mass index trajectory. International Journal of Obesity (2015)
Focusing on Women's Health
Schliep KC et al. Pain typology and incident endometriosis. Human Reproduction (2015)
Luo J et al. A multi-compartment 3-D finite element model of rectocele and its interaction with cystocele. Journal of Biomechanics (2015)
Optimizing Rehabilitation
Tulsky DS et al. The spinal cord injury – quality of life (SCI-QOL) measurement system: development, psychometrics, and item bank calibration. The Journal of Spinal Cord Medicine (2015)
Keay A. Team RBO from Berlin wins Amazon Picking Challenge convincingly. Robohub.org (2015)
Driving innovation for recovery. NICHD Spotlight (2015)
Improving Care for People with HIV
Vanpouille C et al. Valacyclovir decreases plasma HIV-1 RNA in HSV-2 seronegative individuals: a randomized placebo-controlled crossover trial. Clinical Infectious Diseases (2015)
Siberry GK et al. Immunity to measles, mumps and rubella in US children with perinatal HIV infection or perinatal HIV exposure without infection. Clinical Infectious Diseases (2015)
Ezeanolue EE et al. Effect of a congregation-based intervention on uptake of HIV testing and linkage to care in pregnant women in Nigeria (baby shower): a cluster randomised trial. Lancet Global Health (2015)
Understanding and Treating Autism
O'Haire ME et al. Animals may act as social buffers: skin conductance arousal in children with autism spectrum disorder in a social context. Developmental Psychobiology (2015)
Jann K et al. Altered resting perfusion and functional connectivity of default mode network in youth with autism spectrum disorder. Brain and Behavior (2015).
Green SA et al. Neurobiology of sensory overresponsivity in youth with autism spectrum disorders. JAMA Psychiatry (2015)
Promoting Healthy Fetal Development
Buck Louis GM et al. Racial/ethnic standards for fetal growth, the NICHD fetal growth studies. American Journal of Obstetrics and Gynecology (2015)
Tulipan NB et al. Prenatal surgery for myelomeningocele and the need for cerebrospinal fluid shunt placement. Journal of Neurosurgery Pediatrics (2015)
Ensuring Medicines Are Safe for Children and Pregnant Women
Kux L. Pediatric studies of meropenem conducted in accordance with the Public Health Service Act; availability of summary report and requested labeling changes. Federal Register (2015)
Findling RL et al. Lithium in the acute treatment of bipolar I disorder: a double-blind, placebo-controlled study. Pediatrics (2015)
Huybrechts KF et al. Antidepressant use late in pregnancy and risk of persistent pulmonary hypertension of the newborn. JAMA (2015)
Advancing Knowledge of Rare Diseases
Izumi K et al. Germline gain-of-function mutations in AFF4 cause a developmental syndrome functionally linking the super elongation complex and cohesin. Nature Genetics (2015)
Rigler SL et al. Novel copy-number variants in a population-based investigation of classic heterotaxy. Genetics in Medicine (2015)
Improving Cognitive Skills Across All Ages
Bierman KL et al. Helping Head Start parents promote their children's kindergarten adjustment: the research-based developmentally informed parent program. Child Development (2015)
NIH supports new studies to find Alzheimer's biomarkers in Down syndrome. NIH NewsRelease (2015)
Leading Research to Understand and Treat Infertility
Eisenberg ML et al. Relationship between physical occupational exposures and health on semen quality: data from the Longitudinal Investigation of Fertility and the Environment (LIFE) Study. Fertility and Sterility (2015)
Diamond MP et al. Letrozole, gonadotropin, or clomiphene for unexplained infertility. NEJM (2015)
Fostering Efforts to Understand the Placenta
NIH invests $46 million in technologies to monitor placental health. NICHD News Release (2015)