NIH-funded study calls into question common practice during labor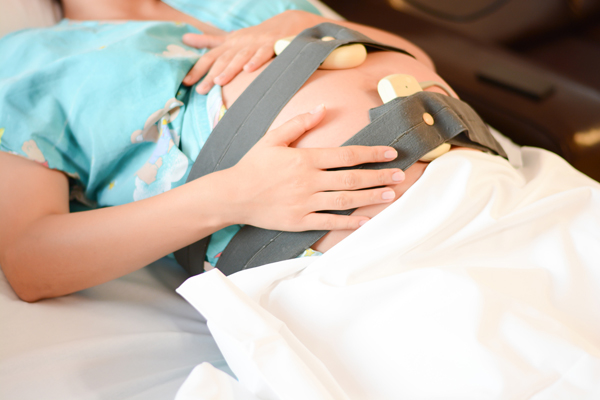 Delaying pushing during the second stage of labor—when the cervix is fully dilated at 10 centimeters—is a common practice at many U.S. hospitals, but it may have no effect on whether pregnant women deliver spontaneously (without a cesarean section or other intervention), according to a study funded by the National Institutes of Health. Women in the study who pushed immediately had a shorter average duration of labor than those asked to delay, as well as a lower rate of a common bacterial infection and excessive bleeding after delivery. All the women received epidural anesthesia—an anesthetic injected into the spinal column to reduce labor pain. The study, which appears in the Journal of the American Medical Association, was conducted by Alison G. Cahill, M.D., of Washington University in St. Louis and colleagues at five other institutions.
"The findings provide strong evidence that for the vast majority of first-time mothers receiving epidural anesthesia, delaying pushing offers no benefit over immediate pushing at the second stage of labor," said Menachem Miodovnik, M.D., a medical officer in the Pregnancy and Perinatology Branch of NIH's Eunice Kennedy Shriver National Institute of Child Health and Human Development.
Before the current study, evidence supporting the practice of delayed pushing was inconclusive. The largest previous study, undertaken more than 20 years ago, found that delayed pushing reduced the rate of deliveries in which forceps—surgical tongs—are inserted high into the birth canal to help turn and pull the baby forward. However, because of risks to mother and infant, high forceps are no longer commonly used in the United States. A more recent meta-analysis of this older study and several smaller studies found no difference in spontaneous delivery between immediate and delayed pushing at the second stage of labor.
In the current study, researchers randomly assigned more than 2,400 women at 37 weeks or later of pregnancy to either immediate or delayed pushing. Only first-time mothers with a single pregnancy were included in the study. When the cervix dilated fully, women were told either to begin pushing immediately or to delay pushing for 60 minutes—unless their clinician instructed them otherwise or unless they had an irresistible urge to push. Women in the immediate pushing group were told they could begin pushing as soon as the second stage began.
The researchers found that the rate of spontaneous delivery did not differ significantly between the two groups: 85.9 percent for the immediate group versus 86.5 percent in the delayed group. The immediate group had a shorter average duration of labor by 32 minutes, compared to the delayed group. However, the immediate group pushed for nine minutes more than the delayed group (83.7 minutes versus 74.5 minutes).
The immediate pushing group had a lower rate of chorioamnionitis (infection of the placenta and membranes surrounding the fetus), compared to the delayed group (6.7 percent versus 9.1 percent). The immediate group also had fewer postpartum hemorrhages (excessive bleeding following delivery), compared to the delayed group (2.3 percent vs. 4.0 percent).
The study was stopped after it enrolled 75 percent of the planned participants because researchers found that the results were unlikely to differ substantially at full study recruitment and because of concerns that the delayed pushing group would have a higher risk of postpartum hemorrhage and chorioamnionitis.
Reference
Cahill, AG, et al. Effect of immediate vs delayed pushing on rates of spontaneous vaginal delivery among nulliparous women receiving neuraxial analgesia: a randomized clinical trial. Journal of the American Medical Association. DOI: 10.1001/jama.2018.13986
###
About the Eunice Kennedy Shriver National Institute of Child Health and Human Development (NICHD): NICHD conducts and supports research in the United States and throughout the world on fetal, infant and child development; maternal, child and family health; reproductive biology and population issues; and medical rehabilitation. For more information, visit http://www.nichd.nih.gov.
About the National Institutes of Health (NIH): NIH, the nation's medical research agency, includes 27 Institutes and Centers and is a component of the U.S. Department of Health and Human Services. NIH is the primary federal agency conducting and supporting basic, clinical, and translational medical research, and is investigating the causes, treatments, and cures for both common and rare diseases. For more information about NIH and its programs, visit http://www.nih.gov