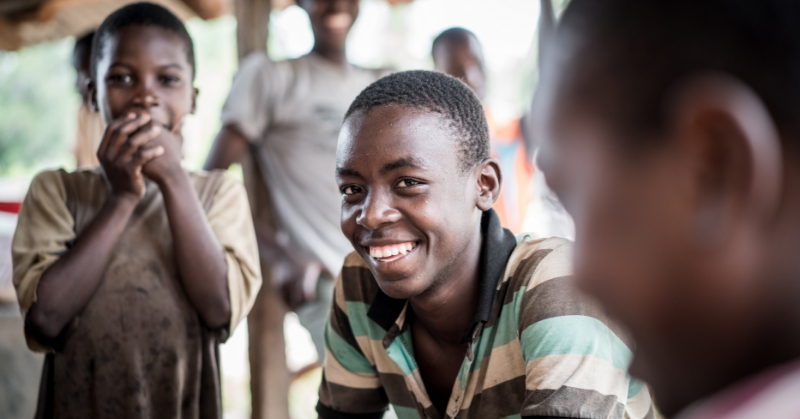 The National Institutes of Health has awarded $50 million for a research program to identify youth at risk for HIV or with HIV and get them into medical care. The funding will be provided over 5 years to support studies in eight African countries. The effort will focus on locations with limited research capacity and with populations underrepresented in HIV research, such as sexual and gender minorities, commercial sex workers, and drug users.
The program is called Prevention and Treatment through a Comprehensive Care Continuum for HIV-affected Adolescents in Resource Constrained Settings Implementation Science Network ( PATC3H-IN). Funding will be provided by NIH's Eunice Kennedy Shriver National Institute of Child Health and Human Development (NICHD) and National Institute of Mental Health, with additional funding from the National Institute on Drug Abuse and the Fogarty International Center. PATC3H-IN is a follow on to PATC3H, which also sought to develop strategies for identifying at risk youth and enrolling them in medical care programs.
"It's often extremely difficult to get adolescents with HIV into appropriate care," said Franklin Yates, M.D., medical officer in the NICHD Maternal and Pediatric Infectious Disease Branch. "Poverty, fear of stigma, and privacy concerns are some of the barriers making it less likely that they will seek treatment and get the ongoing care they need. We seek to build research capacity for adolescent HIV prevention and care in low- and middle-income countries."
According to UNAIDS
(PDF 459 KB), two out of every seven new HIV acquisitions globally in 2019 were among people aged 15 to 24 years.
PATC3H-IN will establish a network of investigators with experience in HIV prevention and providing access to care. The researchers will coordinate with local health care officials and policy makers and evaluate strategies for prevention, treatment, and care interventions for youth living with HIV, suited to local health care infrastructure.
NIH is currently soliciting applications for an Implementation Science Coordinating Center for PATC3H-IN, with a due date of December 6, 2023.
The following are PATC3H-IN study principal investigators and their programs:
Babafemi Taiwo
Northwestern University at Chicago
Intensive Combination Approach to Roll back the HIV Epidemic in Nigerian Youth (iCARE) Plus Effectiveness / Implementation Hybrid Study
Moherndran Archary
Kwazulu-Natal Research Institute TB-HIV, Durban, South Africa
Evaluation of Long-Acting Injectable antiretroviral therapy and Teen clubs in adolescents (ATTUNE)
Manhattan Charurat
University of Maryland Baltimore
Resilient HIV Implementation Science with Sexual and Gender Minority Youths using Evidence (RISE) Clinical Research Center
Juliet Iwelunmor
Saint Louis University
Sustaining Innovative Tools to Expand Youth-Friendly HIV Self-Testing (SITEST)
Saeed Ahmed
Baylor College of Medicine
VS4A: VITAL Start (Video-Intervention to Inspire Treatment Adherence for Life) for Adolescents, a video intervention to improve retention and adherence to ART among adolescents living with HIV
Mackfallen Anasel
Centre of Excellence in Health Monitoring and Evaluation, Morogoro, Tanzania
Making women's options for HIV prevention in Tanzania accessible and joining implementation science capacity building (MWOTAJI)
Carolyn Bolton
Centre for Infectious Disease Research, Lusaka, Zambia
ZAIMARA: Zambian Informed Motivated Aware and Responsible Adolescents and Adults
Philippa Musoke
Makerere University College of Health Sciences, Kampala, Uganda
Implementation Science to Understand and Design Stakeholder Informed Innovative Interventions to Improve Adolescent and Youth HIV Prevention and Care Continuums in Rural and Urban Uganda
###
About the Eunice Kennedy Shriver National Institute of Child Health and Human Development (NICHD): NICHD leads research and training to understand human development, improve reproductive health, enhance the lives of children and adolescents, and optimize abilities for all. For more information, visit https://www.nichd.nih.gov.
About the National Institutes of Health (NIH): NIH, the nation's medical research agency, includes 27 Institutes and Centers and is a component of the U.S. Department of Health and Human Services. NIH is the primary federal agency conducting and supporting basic, clinical, and translational medical research, and is investigating the causes, treatments, and cures for both common and rare diseases. For more information about NIH and its programs, visit https://www.nih.gov.