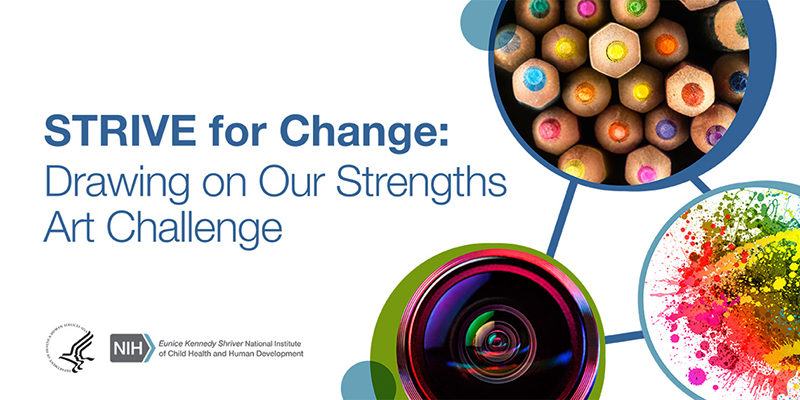 The National Institutes of Health will award prizes totaling $15,000 to youth aged 16 to 25 years for original artwork depicting ways that communities navigate challenges and promote positive health outcomes despite barriers to healthy living.
The STRIVE for Change: Drawing on Our Strengths Art Challenge is sponsored by NIH's Eunice Kennedy Shriver National Institute of Child Health and Human Development (NICHD). It builds on the work of the STrategies to enRich Inclusion and achieVe Equity (STRIVE) initiative, which aims to improve diversity, equity, inclusion, and accessibility in NICHD's research and workforce.
In the United States, persistent health disparities contribute to higher rates of illness and death among racial and ethnic minorities, socioeconomically disadvantaged populations, underserved rural populations, people with disabilities, and sexual and gender minorities. The STRIVE for Change: Drawing on Our Strengths Art Challenge aims to engage youth to highlight how these communities manage adversity and promote resilience to achieve positive health outcomes.
Artwork submissions should focus on practices by or characteristics of community members—such as events, ways of sharing resources and information, and cultural traditions—that help overcome a specific disadvantage that results in poorer health outcomes. The competition is open to all U.S. citizens and permanent residents aged 16 to 25 years at the time of submission. Youth from marginalized communities are particularly encouraged to apply.
Submissions of single still images are due by November 15, 2022. NICHD expects to announce winners in 2023. Artwork will be judged on creativity, clarity, originality, quality, and representation of theme. Entries will be grouped into teen (16 to 18 years old at time of submission) and young adult (19 to 25 years old at time of submission) categories. NICHD intends to award first, second, and third prizes for each age category.
For more information on entry and rules of the STRIVE for Change: Drawing on Our Strengths Art Challenge, visit http://www.challenge.gov/?challenge=nichdartchallenge.