Challenge seeks home-based or point-of-care technologies to improve postpartum outcomes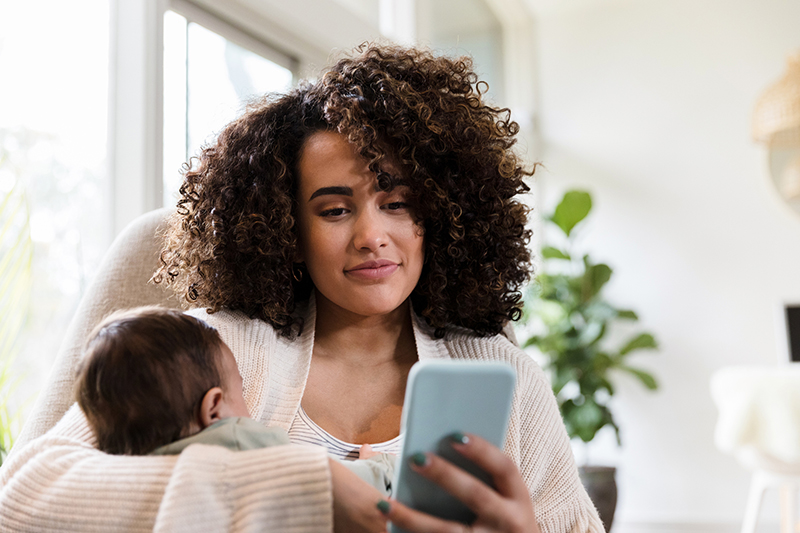 The National Institutes of Health is offering up to $8 million in cash prizes to accelerate development of technologies to improve maternal health outcomes for those who live in areas lacking access to maternity care. The Rapid Acceleration of Diagnostics Technology (RADx® Tech) for Maternal Health Challenge prioritizes home-based or point-of-care diagnostic devices, wearables and other remote sensing technologies to improve postpartum healthcare in these regions. The postpartum period is defined as the first year after giving birth or the end of a pregnancy, and it accounts for a large proportion of maternal deaths in the United States.
"Many maternal deaths are preventable if the health problem is identified early, but millions of women in the United States live in areas with limited or no access to maternity care," said Diana W. Bianchi, M.D., director of NIH's Eunice Kennedy Shriver National Institute of Child Health and Human Development (NICHD), which is administering the challenge. "The goal of this challenge is to develop easy-to-use technologies for people or their local health clinics to assess whether additional medical care is needed after delivery."
In the United States, more than 700 women die each year from complications related to pregnancy or giving birth, according to the Centers for Disease Control and Prevention. Leading causes of these deaths, which can occur up to one year after delivery, include heart-related conditions, infection, bleeding, blood clots, high blood pressure and stroke. Another 50,000 U.S. women experience life-threatening complications that are considered "near misses" for maternal death, sometimes causing serious, long-term health problems.
NICHD, the National Institute of Biomedical Imaging and Bioengineering (NIBIB), and the NIH Office of the Director are co-sponsoring this challenge as part of NIH's Implementing a Maternal health and PRegnancy Outcomes Vision for Everyone (IMPROVE) Initiative. The initiative supports research to reduce preventable causes of maternal deaths and to improve health for women before, during and after delivery. IMPROVE includes a special emphasis on health disparities and populations disproportionately affected, such as African American/Black women, American Indians/Alaskan Natives, Asian Pacific Islanders, Hispanics/Latinas, very young women, women of advanced maternal age and people with disabilities.
Diagnostic technologies that are in the prototype stage or further along in development will be evaluated using the RADx Tech "innovation funnel" approach, which compresses the technology development timeline by using expert teams to simultaneously address scientific, technical, regulatory, clinical and commercialization requirements across milestone-based stages.
The initial Viability Assessment Phase will award up to 25 winners a prize of $20,000 each. The next Deep Dive Assessment Phase will award up to 12 winners a prize of $75,000 each. In the final Technology Assessment Phase, up to 12 winners will have the opportunity to earn $300,000 each in milestone prizes. An additional testing and verification step in this final phase will identify up to six final winners who will each receive $500,000. Submissions to the Viability Assessment Phase are due Nov. 1, 2022, and final winners are expected to be announced in March 2024.
The challenge will prioritize technology solutions that are developed sustainably, at low cost and can be used across societal, economic and cultural contexts. For example, solutions should be easy to use by individuals in their homes or by healthcare personnel in local pharmacies, community based clinics, primary care physician or pediatrician offices, Tribally operated hospitals or clinics and by emergency medical services. Solutions should also enable continuous healthcare monitoring during the first year of the postpartum period.
The challenge is open to any U.S.-based innovator or organization that can demonstrate the feasibility and readiness of its technology to accurately predict, detect, diagnose and/or monitor conditions affecting maternal health during the postpartum period. Teams may include start-ups, small- or mid-size businesses, non-profit organizations and academic institutions. For more information, including details about eligibility, rules, and how to register, please visit: www.challenge.gov/?challenge=radx-tech-maternal-health.
###
About the Eunice Kennedy Shriver National Institute of Child Health and Human Development (NICHD): NICHD leads research and training to understand human development, improve reproductive health, enhance the lives of children and adolescents, and optimize abilities for all. For more information, visit https://www.nichd.nih.gov.
About the National Institute of Biomedical Imaging and Bioengineering (NIBIB): NIBIB's mission is to improve health by leading the development and accelerating the application of biomedical technologies. The Institute is committed to integrating engineering and physical science with biology and medicine to advance our understanding of disease and its prevention, detection, diagnosis, and treatment. NIBIB supports emerging technology research and development within its internal laboratories and through grants, collaborations, and training. More information is available at the NIBIB website.
About the Office of Research on Women's Health (ORWH): ORWH serves as the focal point for women's health research at NIH. It is the first Public Health Service office dedicated specifically to promoting women's health research within, as well as beyond, the NIH scientific community. The office also fosters the recruitment, retention, reentry, and advancement of women in biomedical careers. For more information about ORWH, visit https://orwh.od.nih.gov/
About the National Institutes of Health (NIH): NIH, the nation's medical research agency, includes 27 Institutes and Centers and is a component of the U.S. Department of Health and Human Services. NIH is the primary federal agency conducting and supporting basic, clinical, and translational medical research, and is investigating the causes, treatments, and cures for both common and rare diseases. For more information about NIH and its programs, visit https://www.nih.gov.