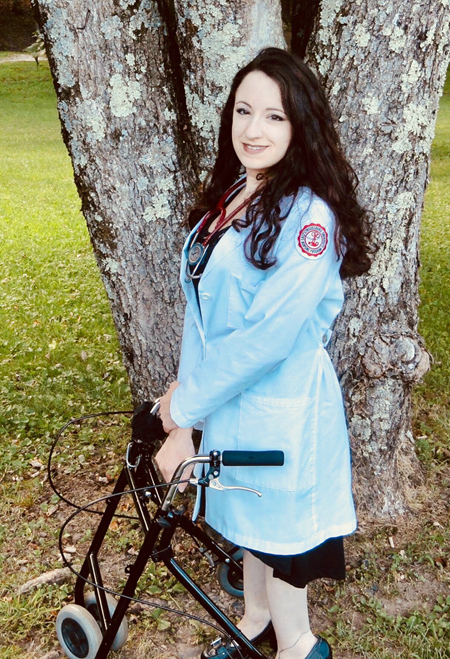 Ms. Meredith Carlson Daly: Welcome to Milestones, a podcast featuring research and insights into Child Health and Human Development.
I'm your host Meredith Carlson Daly.
In recognition of DNA Day, April 25, we're highlighting genetic discoveries that have helped us understand brittle bone disease, which goes by the scientific name osteogenesis imperfecta [or 'OI']. This rare disorder weakens bones significantly, leading to frequent fractures. As many as 50,000 people in the United States are affected. Dr. Joan Marini has spearheaded NICHD's research on OI for more 30 years, including breakthroughs that have uncovered genetic mutations linked to this disorder. With me today to speak about the challenges of OI is one of Dr. Marini's first patients, Kristal Nemeroff. Kristal started coming to the NIH for OI treatments when she was an infant.
Kristal thanks for joining us.
Ms. Kristal Nemeroff: Thank you so much for having me.
Ms. Daly: So, can you tell us a little about yourself? How did you first come to NIH?
Ms. Nemeroff: My name is Kristal as you said and it's actually very fitting because my parents knew that I was going to have this brittle bone disease before I was even born and that was actually why they named me Kristal because they knew that I was going to be fragile like crystal.
So, basically my mom found out when she was carrying me, when she was six months along, that on an ultrasound they could see that my femur was broken. So, before I was even born I, you know, had a big fracture. I inherited this genetic disease from my mom. My mom also has brittle bone disease. So, it was, you know, kind of a given at that point that I was going to have this disease, too, once they saw I was fractured in utero. So, me and my mom, we both had type 4 OI, and after I was born, my mom was looking for a good orthopedic surgeon who would be able to keep up with my maintenance surgeries, like rotting and broken bones and stuff like that. And so, it all started, like my link to the NIH, all started from a meeting with the Osteogenesis Imperfecta Foundation, the OIF, which is like a fabulous resource as well. They have a great website OIF.org . But my parents went to an OIF meeting and I was 7-months old and they were looking for, you know, basically good medical care and we were referred to Dr. Nason and he set us up with an appointment at the National Institutes of Health. He told us about the OI study that was going on there and he actually took our contact information and gave it to Dr. Marini. Dr. Marini called us, and the rest is history. I have been going to the NIH since I was less than a year old, so it's been a very long time.
Ms. Daly: And how old are you now?
Ms. Nemeroff: I'm 30 so, I went a lot more frequently in childhood you know than adulthood. Mainly the study was studying people with OI from infancy to adulthood, so I, you know, really only saw them a handful of times like in my adult life, in my 20s and stuff. But back when I was young, we were going down to the NIH every 4-6 months.
Ms. Daly: And tell me what that was like? Where do you live? Where were you coming from?
Ms. Nemeroff: Well, we live in the Pocono Mountains and the NIH is in Maryland, which isn't too far away, but you know it's enough of a distance where it was a hardship for my family. When we used to go the NIH in the very beginning, we used to stay in-patient in the hospital, like 24-7, because, you know, there was really no out-patient settings there at the time. We used to have to split up. My dad used to not be allowed to stay in the hospital, because you can only have one adult staying with you, so once The Children's Inn was built, we had the whole family together and, you know, my dad wasn't left scrambling to go find someone, you know a friend to stay with or a hotel or something like that. So, it was pretty instrumental in keeping the family together, so we could all support each other.
Ms. Daly: The Children's Inn, this is a non-profit home opened in 1990. So, you started coming before then?
Ms. Nemeroff: Yeah, my parents said that, we, like right after The Inn was built, literally the very next time that we had an NIH appointment, we stayed at The Inn. It was like, you know, the year it opened, so that was that was really exciting.
Ms. Daly: So, not only were you one of Dr. Marini's first patients, you were one of The Children's Inn's first families?
Ms. Nemeroff: Yeah, it's hard to believe, but that is very true.
Ms. Daly: And you were all able to stay together because that's their mission: that you stay there free of charge and the family is really intact and together.
Ms. Nemeroff: You'll hear people say about The Children's Inn that it's literally a home-away-from-home. It doesn't feel like you're in the hospital when you stay at The Children's Inn; it feels, you know, more like, you know, a big cabin with all your friends there and activities to distract you from, you know, life's hardships. And they go all out for the kids and it's one of my favorite places in the whole world.
Ms. Daly: So, in the time that you were coming over the last 30 years, how has the treatment facilitated your functioning? How has it helped?
Ms. Nemeroff: They have helped me from infancy to adulthood and if, you know, thinking back on my early childhood, they helped me get long-leg braces so getting up walking early in the beginning, like I don't know how I would have done it without those braces, like when you break a bone and you've got a rod in there, it keeps things from moving around a lot and it helped facilitate healing and so I've had so many rotting surgeries and I just don't know if we would have been as aggressive in my care if we hadn't, you know, gotten such great medical intervention because they, you know, told my parents this is what we need to do, these things are going to get her the best chances and my parents were on board all the way, thank goodness. So, but the one, I would say the extra special treatment that I got at the NIH when I was 13-years-old, I got an experimental drug there called Pamidronate, and it's actually a drug for post-menopausal women and they did a study at the NIH and they said what happens if we give this bone-strengthening drug to people with Osteogenesis Imperfecta, my bone disease and they studied that there and my bone density went up, I think it was 23 percent in 1 year from that medication. So, I felt better like 3 months after that first infusion. I'll never forget the day where I woke up and you know suddenly my back like you know didn't hurt as bad as it had you know been hurting for you know months and months and months and like, wow this this must be what it feels like to feel normal, this is wild, you know, I can wake up and go about my day and it kind of gave me like new life when I was a teenager and I know that it gave me the opportunity to, you know, spearhead into my career. I wanted to become a nurse and I don't think without the care that I received at the NIH, I don't think I would have been able to follow my dreams to the fullest extent that I did, so I'm so grateful for the treatment and the help I got from the NIH.
Ms. Daly: And you did become a registered nurse, didn't you?
Ms. Nemeroff: I did, I did, and it was at the NIH that made me want to be a nurse in the first place. When I was getting that Pamidronate, when I was when I was getting that experimental drug, there were two nurses Debbie and Kelly at the NIH, who, you know, would take time out and sit down with me and chit chat. You know it's just hard being inpatient in the hospital. My parents would go stay at The Inn, and you know, I would still be hooked up to the infusion in the hospital and it just, you know, it made a big difference for me, those two nurses who just went, you know, the extra mile to make me feel cared about and I was like, 'yeah I think this is something that I could see myself doing is caring for people and being a nurse.
Ms. Daly: And I understand that becoming a nurse in the State of Pennsylvania wasn't that easy?
Ms. Nemeroff: It was not. It definitely took some fortitude to get to where I wanted to go with my career. I did meet a lot of barriers when I started my, you know, journey through nursing school and I, you know, experienced some barriers from, you know, professors, who maybe, you know, were a little uncomfortable seeing somebody with a wheelchair rolling into the nursing program, like literally, but I, you know, just wanted to work with them as much as possible and let's think outside the box. There's a lot of different roles for nursing out there and, you know, just because I might not fit some roles in nursing doesn't mean that I'm not going to find a good fit somewhere else. There's gotta be a place for me in nursing. You know I kept saying this…"I will find my place in nursing. I just need you guys to believe in me that, you know, I belong here too." It was a long road and one of the things they needed from me was a letter of medical clearance to actually even participate in the nursing program at all.
Ms. Daly: And did you get that letter?
Ms. Nemeroff: I did. I got my letter and I, I am so thankful and Dr Paul wrote me the best letter of my life. It literally opened all the doors for me, this one letter. He reminded them about the Americans With Disabilities Act and I was thankful for him reminding them of that too. He was really like the biggest advocate of my life.
Ms. Daly: I know, you know, DNA Day is all about the discovery of genetics. There's another day that you also celebrate.
Ms. Nemeroff: And it's coming up too: its Wishbone Day.
Ms. Daly: Tell me about that.
Ms. Nemeroff: Wishbone Day is, if you've never heard of it, it's celebrated every May 6th and it's a day where all of our friends and loved ones wear yellow and it is like the official international awareness day for Osteogenesis Imperfecta. It's not a fundraiser. It's not, it's not anything else except for a day to make public awareness for OI and make everybody feel supported and cared about. And the reason we wear yellow is because it shines with optimism. I had to look this up because I actually didn't know why we chose yellow. But if you go to wishboneday.com , there's lots of tidbits and goodies on that website about OI awareness.
Ms. Daly: And I know that one of the other things you do to boost your spirits besides wearing yellow on May 6th is you sing.
Ms. Nemeroff: I do. I do. I love to sing. I didn't do much sports because of my brittle bone disease, you know, kind of wasn't a good outlet for me. But, you know, singing and music became a great outlet for me. I would definitely say it helped me cope with my disability and it gave me a lot of awesome opportunities. I love to sing. I actually sang for The Children's Inn's opening ceremony when they opened the new wing of The Children's Inn. I think it might have been like 10 years ago, but yeah, I did a whole program. I used to come to The Children's Inn and just sit at the piano and sing and play for hours, whoever would come and listen, you know, it was the more the merrier. You know in The Children's Inn everybody speaks a different language. You have families there from all over the world, but what I found that when I sat down at the piano and started playing or singing or something, you know, music is the universal language. You don't need to know what it means to feel the music, so that that was one of my favorite experiences at The Children's Inn.
Ms. Daly: Well now you have to sing something for us.
Ms. Nemeroff: OK. Well, since it's DNA Day coming up, it makes me think of the Lady Gaga song, 'Born This Way.' I don't know if you you've heard that song, but alright, I'll do a little snippet. Put me on the spot.
I'm beautiful in my way 'cause God makes no mistakes
I'm on the right track, baby I was born this way
Don't hide yourself in regret
Just love yourself and you're set
I'm on the right track, baby I was born this way
Ms. Daly: Wow! We have been speaking with Kristal Nemeroff. What a beautiful rendition. Thank you so much for joining us today.
Ms. Nemeroff: It was my pleasure. Thank you so much for thinking about me. I really appreciate it.
Ms. Daly: In honor of DNA Day, Kristal Nemeroff. One of NICHD's early participants in clinical research on Osteogenesis Imperfecta.
Thanks for listening to another episode of Milestones. I'm your host, Meredith Carlson Daly.