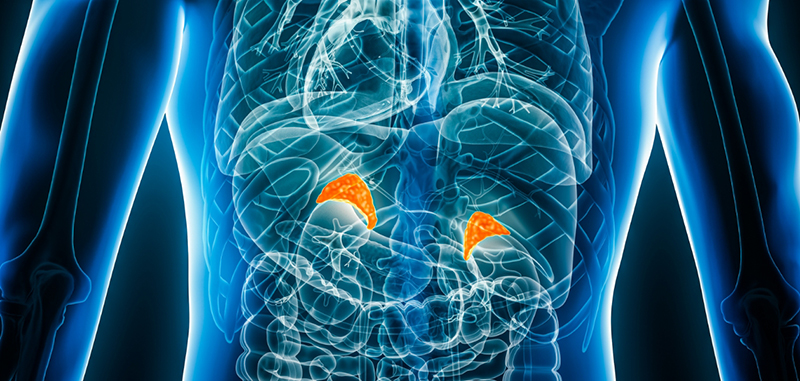 Pheochromocytomas and paragangliomas are rare types of tumors that are typically found in the abdomen but can occur in any location of the body. An international group of health care professionals developed a consensus statement on how to best manage these tumors when they are caused by variants in the gene succinate dehydrogenase complex subunit D (SDHD). The group includes co-chair Karel Pacak, M.D., D.Sc., Ph.D., a senior investigator at NIH's Eunice Kennedy Shriver National Institute of Child Health and Human Development (NICHD). The work is published in The Lancet Diabetes & Endocrinology.
Background
Pheochromocytomas form in the adrenal glands, and paragangliomas arise from cells of neuronal origin, which can be located throughout the neck, chest, abdomen, or pelvis. These tumors produce catecholamines, which control the body's stress reaction and other functions, including heart rate and blood pressure. Although these cancers are typically slow-growing and benign, they can also become metastatic and spread to other areas of the body.
In many cases, the tumors are caused by hereditary variants in the gene SDHD. Patients with these disease-causing variants tend to have more clinically complex cases, underscoring the need for evidence-based guidelines for treatment and management. Changes in disease progression can also occur at young or older ages, which can affect whether surgery or radiation therapy is recommended.
Results
The guidelines include 34 evidence-based recommendations that cover the health care environment, initial testing, surgical interventions, radiation therapy, medical management, and lifelong surveillance of pheochromocytomas and paragangliomas.
Overall, the guidelines recommend that all patients with pheochromocytomas and paragangliomas caused by SDHD mutations should be managed by an expert interdisciplinary team and require clinical, endocrine, and imaging assessments to screen and diagnose the disease at a whole-body scale. They also emphasize the need to monitor the condition long-term to check for new tumors or metastases.
The authors who developed the guidelines are experts who represent various countries, practice settings, and medical disciplines (i.e., endocrinology, oncology, internal medicine, surgery, otolaryngology, radiotherapy, radiology, nuclear medicine, genetics, clinical chemistry, and pathology).
Significance
The guidelines provide an evidence-based standard of care that will be useful for health care providers from various backgrounds and clinical care settings to best treat patients with pheochromocytomas and paragangliomas.
Reference
Taïeb D. et al., Clinical consensus guideline on the management of phaeochromocytoma and paraganglioma in patients harbouring germline SDHD pathogenic variants. The Lancet Diabetes & Endocrinology DOI: 10.1016/S2213-8587(23)00038-4 (2023)