New RADx-UP research effort combines testing and safety measures in underserved populations.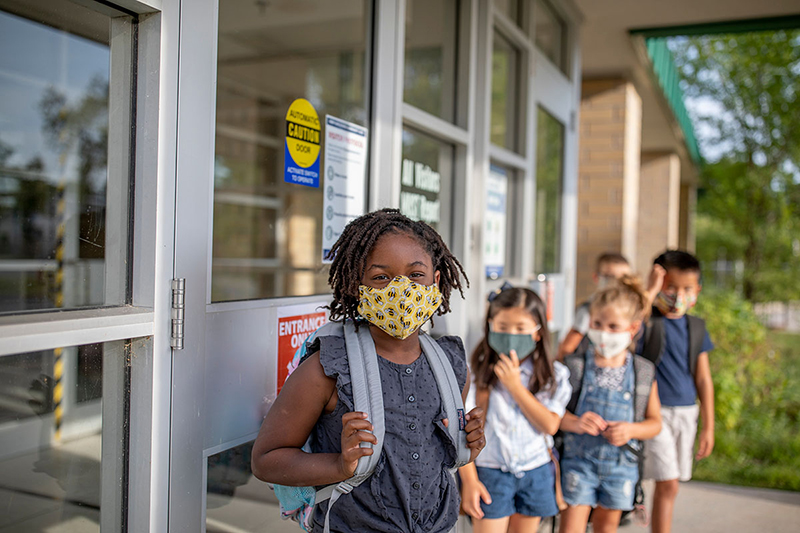 The National Institutes of Health is awarding up to $33 million over two years to fund projects at 10 institutions across eight states to build evidence on safely returning students, teachers and support staff to in-person school in areas with vulnerable and underserved populations. This funding was made available by the American Rescue Plan. Known as the Safe Return to School Diagnostic Testing Initiative, the awards are part of the NIH Rapid Acceleration of Diagnostics Underserved Populations (RADx-UP) program, which aims to increase COVID-19 testing access and uptake for vulnerable and underserved populations. Projects will combine frequent COVID-19 testing with proven safety measures to reduce the spread of the SARS-CoV-2 virus.
"Many children have inequitable access to reliable virtual learning, and it is important they are able to participate safely in person while also maintaining the health and safety of the of the school and general communities," said Eliseo J. Pérez-Stable, M.D., director of NIH's National Institute on Minority Health and Health Disparities and co-chair of the RADx-UP program. "Establishing frequent COVID-19 testing protocols for schools in vulnerable and underserved communities is essential to the safe return to school effort, and these projects will inform decision makers on the best strategies to accomplish this."
Although many schools are offering both in-person and virtual learning options, some students face barriers to attending school remotely. For example, children may lack access to computer equipment and internet connectivity or may not have family members who can assist them with virtual learning. Moreover, without in-person schooling, many children forego school-based meals, speech or occupational therapy and after school programs. These barriers often disproportionately affect minorities, socially and economically disadvantaged children, and children with medical complexities and/or developmental disabilities.
Participating early childhood education and kindergarten through 12 schools include public, chartered, special education, and pediatric complex care that serve children in urban, rural and tribal communities. Attendance ranges from 50 to 3,500 children and populations are racially and ethnically diverse, including African Americans, American Indians/Alaska Natives, Latinos/Latinas, and Asian Americans. Schools were also selected for being in a school district with at least 50% of students receiving free or reduced-price lunch.
Some projects will involve at-home COVID-19 testing, while others will use pooled, in-school testing approaches. Study participants will receive either molecular or antigen tests, which can detect SARS-CoV-2 infection in samples from nasal swabs or saliva. Researchers will obtain parental consent prior to administering the diagnostic tests to children.
"These awards will foster the development of comprehensive programs to meet the challenge of safely returning children to in-person schooling, particularly for children who are vulnerable to COVID-19 or who are at risk for significant disparities in access to testing," said Diana W. Bianchi, M.D., director of NIH's Eunice Kennedy Shriver National Institute of Child Health and Human Development (NICHD), which is managing the initiative.
In the coming months, the RADx-UP program will make additional awards, pending availability of funds, to expand the initiative across more locations.
RADx-UPSM is a registered service mark of the Department of Health and Human Services.
###
About the Eunice Kennedy Shriver National Institute of Child Health and Human Development (NICHD): NICHD leads research and training to understand human development, improve reproductive health, enhance the lives of children and adolescents, and optimize abilities for all. For more information, visit https://www.nichd.nih.gov.
About the National Institutes of Health (NIH): NIH, the nation's medical research agency, includes 27 Institutes and Centers and is a component of the U.S. Department of Health and Human Services. NIH is the primary federal agency conducting and supporting basic, clinical, and translational medical research, and is investigating the causes, treatments, and cures for both common and rare diseases. For more information about NIH and its programs, visit https://www.nih.gov.