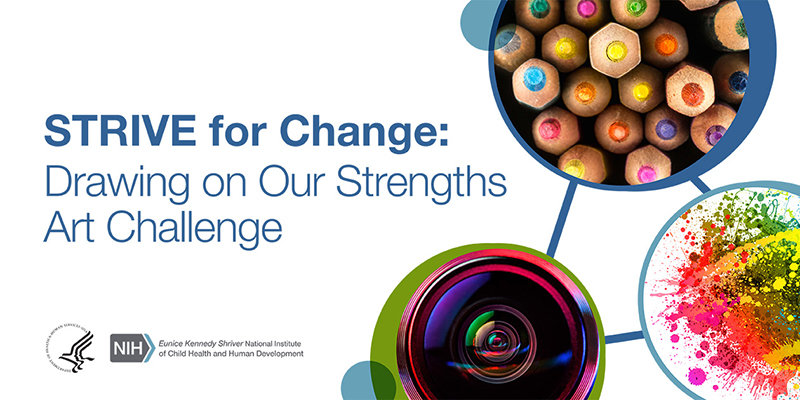 The National Institutes of Health is pleased to announce the winners of the STRIVE for Change: Drawing on Our Strengths Art Challenge, a prize competition for original artwork highlighting the strengths of communities experiencing health disparities. Two entries were selected to receive cash prizes.
Persistent health disparities contribute to higher rates of illness and death among marginalized communities in the United States. The challenge, sponsored by NIH's Eunice Kennedy Shriver National Institute of Child Health and Human Development (NICHD), invited youth ages 16 to 25 years to submit still artwork depicting practices by or characteristics of community members that help overcome a specific disadvantage that results in poorer health outcomes. Entries were judged on creativity, clarity, originality, quality, and representation of theme.
The following winners were each awarded a $1,500 cash prize (select an image to open a larger version):
Lily Rosenblum, From Wheels to Walking in Pittsburgh
Lily Rosenblum is currently a graduate student at the University of Pittsburgh. She says that as a recent transplant to the Pittsburgh area, she was inspired by the city's architecture. Her artwork was inspired by a friend who transitioned from using a wheelchair to walking. The bridge represents a golden path to the opportunities that may await on the other side. The city depicted in rainbow colors is Pittsburgh, which Lily describes as "a city of growing health opportunity." 
David, Eliseo, Gio, Isaiah, Lamair, Maya, Nathanael, Raul, Robin, Trevone, Ruth, Xavier and Xochi, Youth Art and Advocacy for East Harlem
Thirteen youth (ages 14 to 19) in East Harlem, NYC, engaged in a photovoice project depicting their hopes and dreams for health and well-being in their community. Zoelene Hill, Ph.D., of the New York Academy of Medicine, led the project in which youth took photographs and told their stories to uplift youth voices, visions, and strategies for improving health and well-being in their community. The panels from the project will become part of a mobile art installation that will be featured in buildings and offices across East Harlem.
The STRIVE for Change: Drawing on Our Strengths Art Challenge builds on the work of NICHD's STrategies to enRich Inclusion and achieVe Equity (STRIVE) initiative, which aims to improve diversity, equity, inclusion, and accessibility in the institute's research and workforce. For a complete description of challenge entry and judging criteria, see https://www.challenge.gov/?challenge=nichdartchallenge.