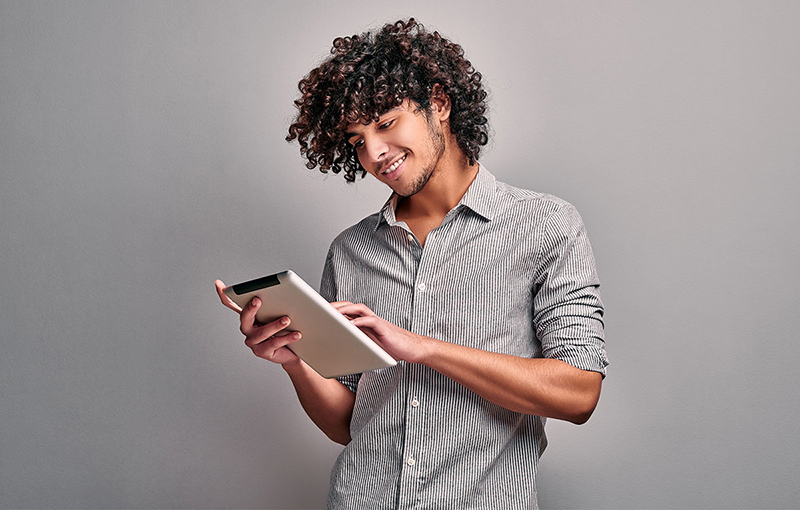 Youth aged 13 to 24 years who were offered HIV testing by a digital health tool on a tablet computer were as likely to accept as those who were offered testing face-to-face, according to a study funded by the National Institutes of Health. However, among study participants aged 19 and younger who previously declined HIV testing, those who used the digital tool were 1.7 times more likely to agree to an HIV test, compared to those who received a face-to-face offer. Findings from the study, which was conducted in a New York City hospital emergency department, appear in Cureus.
The Mobile Augmented Screening tool, or MAS, was developed and evaluated with funding from NIH's Eunice Kennedy Shriver National Institute of Child Health and Human Development. Ian David Aronson, Ph.D., of Digital Health Empowerment and New York University, led the work.
Additional analysis of study data collected with the MAS revealed that youth who reported engaging in substance use and sexual behaviors that can increase risk for acquiring and transmitting HIV were more likely to accept HIV testing than those who did not report these behaviors. Additional funding for this work, published in AIDS and Behavior, was provided by NIH's National Institute on Drug Abuse. 
Background
Youth are the least likely of any age group in the United States to know their HIV status, according to the Centers for Disease Control and Prevention. Many young people are hesitant to discuss sex or substance use with their healthcare providers because they want to avoid being judged, worry that their parents will discover they are sexually active, or fear legal consequences. Additionally, some healthcare providers feel uncomfortable discussing these topics with youth and therefore miss chances to educate their patients about HIV prevention and testing.
Emergency department visits present opportunities to offer HIV education and testing to young people, including those who lack access to primary care. In the current study, researchers evaluated the effectiveness of the MAS at increasing youth HIV testing uptake. Between July 2019 and March 2020, researchers recruited 295 study participants in an emergency department in upper Manhattan and randomly assigned them either to use the MAS or receive a face-to-face offer of HIV testing.
The 147 participants assigned to the MAS used a tablet device to watch a short video addressing barriers to youth HIV testing, respond to HIV-related questions before and after viewing the video, answer questions regarding their substance use and sexual behaviors, and accept or decline the offer of an HIV test. The remaining 148 participants were escorted to a private area by a research assistant, given a printed flyer with HIV testing information, and verbally offered an HIV test.
Results
More than a quarter of study participants agreed to HIV testing, with no overall difference in the percentages of those who accepted using the MAS and those who accepted face-to-face. Study participants tested for HIV at more than double the rate of youth in the same emergency department in the six months preceding the study, suggesting that systematically offering HIV testing to all eligible youth can increase test rates compared to standard practices.
In certain cases, the MAS proved more effective than the face-to-face testing offer. For example, among participants aged 19 and younger who declined HIV testing immediately prior to joining the study, 24.4% of those who used the MAS accepted a test, compared to only 15.8% of those who received a face-to-face offer.
Analysis of data collected from the 147 participants who used the MAS revealed a high prevalence of alcohol and cannabis use. Because people who are intoxicated may engage in behaviors they would otherwise avoid, such as having condomless sex or sex with multiple partners, substance use before or during sex can raise a person's chances of acquiring HIV. Twenty-five out of 53 participants who reported these sexual risk behaviors accepted an HIV test, compared to 14 out of 94 who did not report sexual risk. Participants who reported problem substance use, such as trying and failing to quit, also were more likely to test for HIV (16 out of 35), compared to those who did not report problem substance use (23 out of 112).
Significance
Among youth in a New York City emergency department, the MAS was at least equally effective as face-to-face offers of HIV testing, and in some cases more effective. The findings also suggest that the privacy offered by the MAS or similar digital tools may allow healthcare providers to collect more accurate data on sensitive risk behaviors, including details of underage alcohol consumption and other substance use before or during sex. The authors propose that digital tools offer a convenient way for hospitals to promote HIV testing to youth, noting that few emergency departments would be able to devote a staff member to privately offer HIV tests to all eligible patients.
References
Aronson ID et al. Mobile augmented screening to increase HIV testing among emergency department patients as young as 13 years.
Cureus DOI: 10.7759/cureus.15829 (2021)
Aronson ID et al. Automated substance use/sexual risk reporting and HIV test acceptance among emergency department patients aged 13–24 years.
AIDS and Behavior DOI: 10.1007/s10461-021-03507-2 (2021)