Prizes awarded for promising technologies intended to improve postpartum outcomes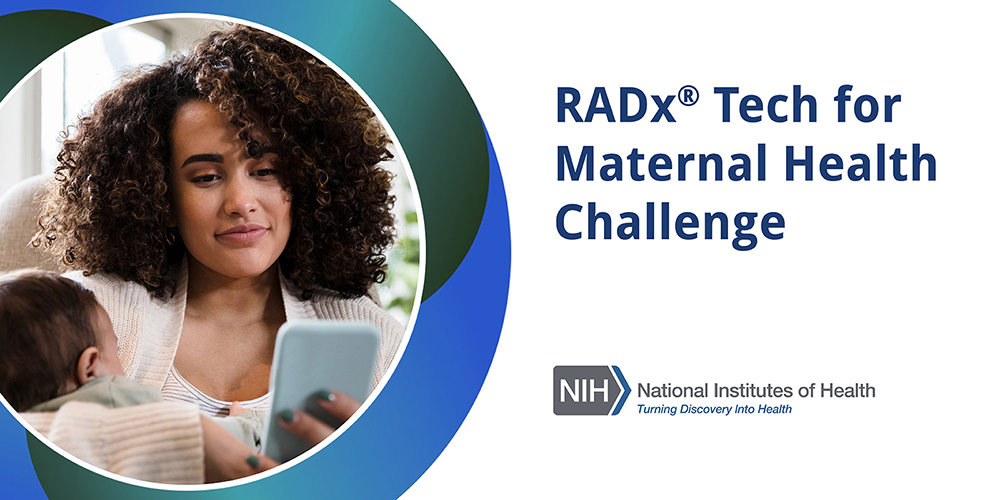 The National Institutes of Health announced the next round of winners of its Rapid Acceleration of Diagnostics Technology ( RADx® Tech) for Maternal Health Challenge—an $8 million prize competition to accelerate development of technologies to improve maternal health outcomes for those who live in areas lacking access to maternity care. The challenge seeks promising home-based or point-of-care diagnostic devices, wearables, and other remote sensing technologies to improve postpartum healthcare in these so-called "maternity care deserts," which include urban and rural areas across the United States.
Many maternal deaths occur during the postpartum period—up to one year after delivery or the end of a pregnancy. Causes include heart-related conditions, infection, hemorrhage or bleeding, blood clots, high blood pressure, and stroke. These conditions can also place postpartum individuals at risk of developing serious, long-term health problems. Enhanced access to easy-to-use diagnostics can lead to timely interventions and potentially life-saving treatments.

The RADx Tech for Maternal Health Challenge received more than 80 submissions, which were evaluated using the RADx Tech "innovation funnel" approach. The strategy compresses the technology development timeline by using expert teams to simultaneously address scientific, technical, regulatory, clinical, and commercialization requirements across milestone-based stages. Fifteen submissions passed the challenge's initial "viability assessment" review and each earned a $20,000 prize.
The 10 teams that have now advanced past the second "deep dive" phase have each earned an additional $75,000 prize. These deep dive winners will undergo the final "technology assessment" phase, during which each innovator team will continue developing their diagnostic technologies and leveraging NIH support to overcome technological, clinical, usability, regulatory, and commercialization hurdles. This final phase is composed of two stages—an initial $300,000 interim milestone prize per winner and a final testing and verification prize of $500,000 per winner. Up to six challenge finalists are expected to be announced in March 2024.
Deep dive winners are listed in alphabetical order. (Please note that the following summaries come from submission packages, and the technologies have not yet been independently validated.)
The Eunice Kennedy Shriver National Institute of Child Health and Human Development (NICHD), the National Institute of Biomedical Imaging and Bioengineering (NIBIB), and the NIH Office of Research on Women's Health (ORWH) co-sponsored the challenge as part of NIH's Implementing a Maternal health and PRegnancy Outcomes Vision for Everyone (IMPROVE) Initiative. The initiative supports research to reduce preventable causes of maternal deaths and to improve health for women before, during, and after delivery. IMPROVE includes a special emphasis on health disparities and populations disproportionately affected by severe pregnancy complications and maternal death, such as African American/Black women, American Indians/Alaska Natives, Asian Pacific Islanders, Hispanics/Latinas, very young women, women of advanced maternal age, and people with disabilities.