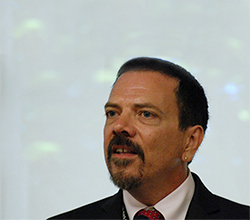 James A. Griffin, Ph.D., has been named the new Chief of the Child Development and Behavior Branch (CDBB) at the Eunice Kennedy Shriver National Institute of Child Health and Human Development (NICHD). Dr. Griffin, an expert in early learning and school readiness research, has served as Deputy Chief of CDBB since joining NICHD in 2004. For the past year, he has served as Acting Branch Chief of CDBB.
Dr. Griffin will continue to focus on research that assesses service systems, early learning development, and intervention programs for at-risk and disadvantaged children from birth through age 8 years old. This research addresses how early intervention programs improve children's self-regulation, learning, and school readiness skills in ways that continue to be beneficial into adulthood.
CDBB addresses the neurocognitive, psychological, behavioral, physical, and social-emotional development and health of infants, children, and adolescents. It also explores how individual differences in development arise from genetic and environmental risk/protective factors. Knowledge gained from research on typical development helps to inform prevention, intervention, and health promotion efforts designed to enhance the lives of children and their families.
Before coming to NICHD, Dr. Griffin was a senior research analyst at the Institute of Education Sciences at the U.S. Department of Education. His work there included several large-scale studies of state pre-kindergarten program interventions. From 2000 to 2003, Dr. Griffin was detailed to the White House Office of Science and Technology Policy, where he served as the Assistant Director for Social, Behavioral, and Education Sciences.
Dr. Griffin began his federal service in 1992 as a research analyst at the Administration on Children, Youth, and Families within HHS. His research portfolio included national evaluations examining different components of the Head Start program.
Dr. Griffin holds a B.A. summa cum laude in Psychology from the University of Cincinnati and a Ph.D. with honors in Child Clinical Psychology from the University of Rochester. He completed a postdoctoral fellowship in psychiatric epidemiology at the Johns Hopkins University School of Public Health.
Over the course of his career, Dr. Griffin has served as an editor for multiple volumes and journals, most recently for a Frontiers Journal Research Topic on Human-Animal Interaction, which featured studies funded by the 10-year Public-Private Partnership between NICHD and the Mars Corporation.