Dr. Peter Basser cited for development of brain imaging technologies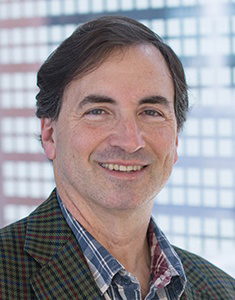 The National Institutes of Health's Peter Basser, Ph.D., has been elected to the National Academy of Engineering for his work in developing diffusion tensor magnetic resonance imaging (dt-MRI) and streamline tractography, which enables neurosurgeons to visualize and avoid sensitive structures within the brain. Diffusion tensor MRI measures the diffusion of water molecules, which can be used to probe the structure and architecture of brain tissue. It is used by neurologists and radiologists to diagnose stroke, cancer, and other brain disorders.
Currently, Dr. Basser is the Associate Scientific Director for Imaging, Behavior, and Genomic Integrity at NIH's Eunice Kennedy Shriver National Institute of Child Health and Human Development. His research on dt-MRI began in the 1990s, when he was a postdoctoral fellow at the Biomedical Engineering and Instrumentation Program, the forerunner of NIH's National Institute of Biomedical Imaging and Bioengineering where he holds an appointment as an associate investigator.
Membership in the National Academy of Engineering honors those who have made outstanding contributions to "engineering research, practice, or education, including, where appropriate, significant contributions to the engineering literature" and to "the pioneering of new and developing fields of technology, making major advancements in traditional fields of engineering, or developing/implementing innovative approaches to engineering education."
###
About the Eunice Kennedy Shriver National Institute of Child Health and Human Development (NICHD): NICHD leads research and training to understand human development, improve reproductive health, enhance the lives of children and adolescents, and optimize abilities for all. For more information, visit https://www.nichd.nih.gov.
About the National Institutes of Health (NIH): NIH, the nation's medical research agency, includes 27 Institutes and Centers and is a component of the U.S. Department of Health and Human Services. NIH is the primary federal agency conducting and supporting basic, clinical, and translational medical research, and is investigating the causes, treatments, and cures for both common and rare diseases. For more information about NIH and its programs, visit https://www.nih.gov.