Findings from NIH-funded study could combat undernutrition in poor areas of the world
WHAT:
For women in resource-poor settings, taking a certain daily nutritional supplement before conception or in early pregnancy may provide enough of a boost to improve growth of the fetus, according to a study funded by the National Institutes of Health. The inexpensive supplement consists of dried skimmed milk, soybean and peanut extract blended into a peanut butter-like consistency. Weighing less than an ounce, the supplement is fortified with essential vitamins and minerals and provides protein and fatty acids often lacking in the women's diets.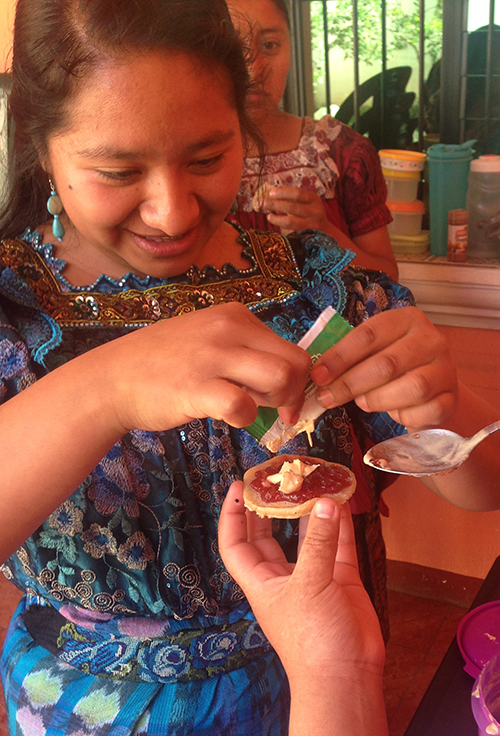 A participant in the trial preparing the supplement. Credit: Nancy Krebs, University of Colorado Anschutz Medical Campus, Aurora, CO
The study was conducted by researchers in the Eunice Kennedy Shriver National Institute of Child Health and Human Development (NICHD) Global Network for Women's and Children's Health Research. The study also received support from the Bill and Melinda Gates Foundation.
Researchers distributed the supplement to women in rural areas of the Democratic Republic of the Congo, Guatemala, India and Pakistan. Roughly 7,300 women were randomized to either receive the supplement three months before conception or during the first trimester (third) of pregnancy or receive no supplement other than what they may have received from local health services. Women in the supplement groups were 31 percent less likely to have an infant that was of shorter length (stunted) at birth and 22 percent less likely to have an infant that was small for gestational age. According to the authors, these findings show that it's possible in poor areas to inexpensively improve maternal nutrition before and in the early stages of pregnancy.
WHO:
Marion Koso-Thomas, M.D., of the NICHD Pregnancy and Perinatology Branch, study author, is available for comment.
ARTICLE:
Hambidge, KM, et al. A multi-country randomized controlled trial of comprehensive maternal nutrition supplementation initiated prior to conception: the Women First trial. American Journal of Clinical Nutrition.2019. https://doi.org/10.1093/ajcn/nqy228 .
###
About the Eunice Kennedy Shriver National Institute of Child Health and Human Development (NICHD): NICHD conducts and supports research in the United States and throughout the world on fetal, infant and child development; maternal, child and family health; reproductive biology and population issues; and medical rehabilitation. For more information, visit NICHD's website.
About the National Institutes of Health (NIH): NIH, the nation's medical research agency, includes 27 Institutes and Centers and is a component of the U.S. Department of Health and Human Services. NIH is the primary federal agency conducting and supporting basic, clinical, and translational medical research, and is investigating the causes, treatments, and cures for both common and rare diseases. For more information about NIH and its programs, visit http://www.nih.gov.