Rohan Hazra, M.D.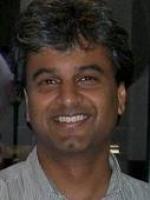 Dr. Rohan Hazra was named the acting director of the Division of Extramural Research in February 2020. He joined NICHD in 2007 and, since 2008, has overseen the Pediatric HIV AIDS Cohort Study, a multicenter U.S.-based program that follows both perinatally HIV-infected youth and HIV-exposed/uninfected infants, children, and youth. In addition, he is actively involved in pediatric HIV clinical trials and other observational studies in the United States and globally.
Dr. Hazra's research interests include studying the long-term impact of HIV and its treatment on children, adolescents, and young adults who are infected with HIV as infants. In addition, he continues to be involved in studies evaluating new antiretroviral medications and treatment strategies in HIV-infected children, especially in resource-limited countries.
Dr. Hazra also maintains a leadership role in the NICHD Data and Specimen Hub, a centralized resource for researchers to store and access data and specimens from NICHD-funded research studies to use for secondary research.
He received his bachelor's degree in biology from Yale University and his medical degree from the Johns Hopkins University School of Medicine. Following graduation from medical school, he completed a pediatric residency and pediatric infectious disease fellowship at Children's Hospital in Boston. Prior to joining NICHD, he conducted clinical studies in pediatric HIV in the National Cancer Institute's intramural program, where he continues to have an adjunct position. He is certified by the American Board of Pediatrics in both pediatrics and pediatric infectious diseases.