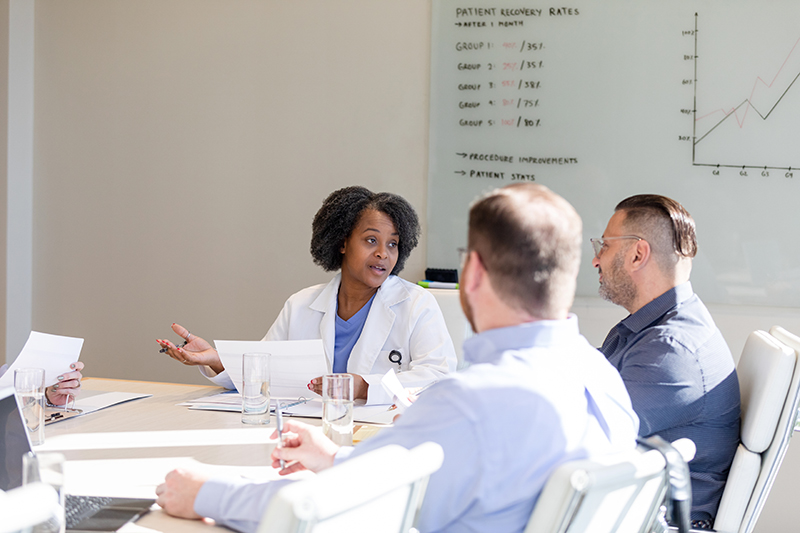 Small businesses can be nimble, flexible, and bold in addressing new ideas. They play a critical role in driving scientific progress by helping to move innovations out of labs and into the public marketplace. Each year, National Small Business Week recognizes the critical contributions of America's entrepreneurs and small business owners.
Businesses with fewer than 500 employees generate 43.5% of the nation's gross domestic product, according to the U.S. Small Business Administration. To help spur innovation by America's small businesses, the federal government offers Small Business Innovation Research (SBIR) and Small Business Technology Transfer (STTR) programs. Through SBIR and STTR grants, NIH provides research and development funding to small businesses and supports their commercialization efforts. NICHD is particularly interested in funding development of technologies, drugs, devices, and other approaches that help fulfill our mission to understand human development, improve reproductive health, enhance the lives of children and adolescents, and optimize abilities for all. This includes tools and methods to diagnose, manage, and treat conditions that affect our populations of interest—women, children, and people with disabilities.
NIH SBIR grants paved the way for the first Food and Drug Administration (FDA)-approved treatment for endometriosis and uterine fibroids. In 2018, FDA approved elagolix (Orilissa®) for the treatment of pain associated with endometriosis. Pain and infertility are the primary symptoms of this common gynecological disease, which occurs when tissue similar to the lining of the uterus grows in other places in the body. Two years later, FDA approved Oriahnn®, which contains elagolix, for treating heavy menstrual bleeding caused by uterine fibroids, the most common non-cancerous tumors in women of childbearing age.
The research that led to these approvals began more than two decades ago. An SBIR grant from NICHD to Neurocrine Biosciences, Inc., provided seed funding for the company to develop experimental oral drugs that block the action of gonadotropin-releasing hormone, leading to reduced estrogen production. Support from NICHD and NIH's National Institute of Neurological Disorders and Stroke helped Neurocrine advance its drug candidates and paved the way for clinical studies. Neurocrine later partnered with Abbott (now AbbVie, Inc.) to further develop and commercialize elagolix.
More recently, NICHD supported the development of Buzzy®, a bee-shaped device that delivers vibrations and cold temperatures near a needle stick site to dull the sensation of pain. SBIR support from NICHD in 2009 enabled the inventor of Buzzy®, pediatrician Amy Baxter, M.D., to refine her prototype and conduct a clinical study testing the device in infants and children. Today, Buzzy® is used globally in hospitals, doctor's offices, and homes to relieve pain associated with needle sticks for children and adults.
NICHD small business funding has also supported the development of numerous assistive devices and technologies to improve mobility and recovery for those with physical limitations and disabilities. For example, NICHD grants to Flint Rehab helped the company develop and evaluate MusicGlove, which senses finger movement and encourages the user to practice fine motor skills during a music-based video game to improve motor impairment after stroke and other neurologic injuries. In addition, NICHD SBIR funding to Coapt, LLC, helped the company develop an upper arm prosthetic interface that uses pattern-recognition technology to improve the user's control of their prosthetic arm.
These are just a few examples of the innovations made by NICHD's SBIR and STTR grantees. Other highlights appear in NICHD's Small Business Success Stories showcase and NIH SEED's Success Stories. While many concepts and ideas explored through the SBIR/STTR programs do not ultimately make it to market, these efforts nevertheless contribute to new insights and knowledge that push science forward.
For more information about NICHD's small business funding opportunities, please see https://www.nichd.nih.gov/grants-contracts/SBIR_STTR/funding.