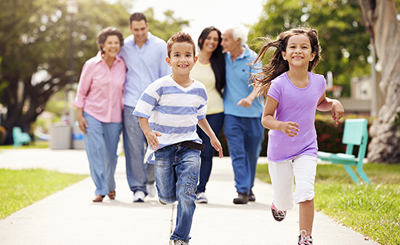 We are at the very early stages of personalized medicine, the idea that treatment can be targeted to meet an individual's medical needs. However, if large segments of the population aren't included in clinical studies, the results of our research—and the scope of personalized approaches—will be limited.
The Eunice Kennedy Shriver National Institute of Child Health and Human Development (NICHD) conducts and supports research involving several underrepresented populations: pregnant women, nursing mothers, children, and people with physical and/or intellectual disabilities. Together, these groups are estimated to comprise more than half of the U.S. population. For more than 50 years, NICHD has supported research that spans pre-pregnancy through adulthood. This is the core of our mission.
As we embark on a path to personalized medicine, we should embrace a cultural change—one that engages all of us in research—to ensure evidence-based therapies for our broad, diverse population. Dr. Catherine Spong, NICHD's Deputy Director, and I recently published an analysis of current clinical research studies that documented the vast exclusion of underrepresented populations. The review, published in the Journal of the American Medical Association , found that several groups were explicitly excluded from NIH-funded clinical studies: pregnant women (68 percent of studies), nursing moms (47 percent), children (76 percent), older adults (28 percent), those with intellectual disabilities (12 percent), and people with physical disabilities (2 percent). These major omissions risk turning personalized medicine into "exclusive medicine," offering targeted care that benefits only a fraction of the population.
Thankfully, we have made some progress as we raise awareness about this critical gap. In 2017, NIH held a workshop, "Inclusion Across the Lifespan" highlighting current federal regulations that include protections for "vulnerable populations" (pregnant women, children, people with intellectual disabilities, and prisoners). Although these regulations were originally designed to protect these individuals, many investigators have called for reconsideration, opting to protect them through research, rather than from research. Inclusion will likely yield data that benefit more people.
The All of Us research project, which launched this month, is a national effort to gather data from one million or more people living in the United States to accelerate research and improve health. The initiative aims to pinpoint individual differences in genes, environment, and lifestyles to help researchers uncover paths toward delivering precision medicine. The All of Us research project plans to include children and people with physical and intellectual disabilities.
At the same time, there is the Task Force on Research Specific to Pregnant Women and Lactating Women (PRGLAC), a congressionally mandated effort led by NICHD to identify gaps in knowledge and research on safe and effective therapies for pregnant women and lactating women. PRGLAC's final report will be finished this summer and submitted to the U.S. Secretary of Health and Human Services. In addition, a trans-NIH working group is looking into the feasibility of including healthy pregnant women in research studies conducted at the NIH Clinical Center in Bethesda, Maryland.
These measures are welcome efforts to bring us closer to a more inclusive, comprehensive approach that achieves the goal of personalized medicine for all.