Early Development   |   Child Development   |   Adult and Family Health   |   Furthering the Scientific Enterprise
Early Development

David S. Goodsell & The Research Collaboratory for Structural Bioinformatics, Protein Data Bank.

Tickle, C., & Barker, H. WIREs Developmental Biology, 2012. doi: 10.1002/wdev.70.

Jennifer Torrance, The Jackson Laboratory.

Pascal Goetgheluck, Science Photo Library.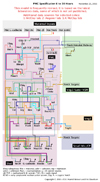 Hamid Bolouri & Eric Davidson, Davidson Laboratory.

Edward Mertz, Section on Physical Biochemistry, Office of Scientific Director, NICHD.
Child Development

Erlandsen, H., Fusetti, F., Martinez, A., Hough, E., Flatmark, T., & Stevens, R. C. (1997). Nature Structural Biology, 4, 995–1000. doi: 10.1038/nsb1297-995.

Waterland, R. A., & Jirtle, R. L. (2003). Molecular and Cellular Biology, 23(15), 5293–5300. doi: 10.1128/MCB.23.15.5293-5300.

Mueller-Dieckmann, C., Panjikar, S., Schmidt, A., Mueller, S., Kuper, J., Geerlof, A., Wilmanns, M., Singh, R. K., Tucker, P. A., & Weiss, M. S. (2007). Acta Crystallographica D63, 366–380. doi: 10.1107/S0907444906055624.
Adult and Family Health

Arizona State University & Kinetic Muscles, Inc.

Teresa Woodruff, Ph.D., Northwestern University, Feinberg School of Medicine.

Section on Endocrinology and Genetics, Division of Intramural Research, NICHD.

Spike Walker, Wellcome Images.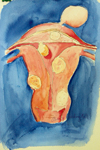 Alicia Armstrong, M.D., MHSCR, Program in Reproductive and Adult Endocrinology, Division of Intramural Research, NICHD.
Furthering the Scientific Enterprise

Rendering performed by Okan Irfanoglu, Program on Pediatric Imaging and Tissue Sciences, Division of Intramural Research, NICHD, under the aegis of Carlo Pierpaoli and Peter Basser.

Burnette, D. T., Sengupta, P., Dai, Y., Lippincott-Schwartz, J., & Kachar, B. (2011). Proceedings for the National Academy of Sciences, 108, 21081–21086. doi: 10.1073/pnas.1117430109.