Overview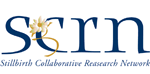 SCRN was established in 2003 to examine the etiology and epidemiology of stillbirth, defined as fetal death at 20 weeks or more of gestation. In the United States, stillbirth occurs in approximately one out of every 160 pregnancies, or about 26,000 stillbirths per year, although the number has declined in the past decade. Not all cases of stillbirth are reported, and some studies suggest the actual number of stillbirths is significantly greater than the estimates. The cause or causes of about one-half of stillbirths are undetermined.
The network, funded through a cooperative agreement from NICHD's Pregnancy and Perinatology Branch (PPB), seeks to understand the causes of stillbirth, improve stillbirth reporting, and develop preventive interventions for the condition. In addition, the work of the SCRN is leading to the standardization of reporting procedures and post-mortem examination protocols, which allow more accurate data on the topic.
The network includes five clinical research sites at universities across the nation, as well as the data coordinating center (DCC).
Topic Areas
SCRN studies include surveillance, case-control, and follow-up studies on stillbirth. Case-by-case analyses include clinical history, postmortem examination of the fetus, and placental pathology. Network studies seek to identify risk factors for stillbirth, including environmental and geographical factors. Enrollment of 668 stillbirths and 1,768 live births in 59 hospitals was completed August 31, 2008.
Network studies include the following:
A surveillance study of all stillbirths occurring in the geographical catchment areas of the five clinical sites, involving retrospective record abstraction and prospective surveillance to assess the completeness of two sources of stillbirth reports, including hospital labor and delivery logs and state vital statistics records
The first large case-control stillbirth study in the United States to simultaneously include population-based controls and complete fetal autopsy and placental pathology examinations to obtain high-quality information about stillbirth and study risk factors for stillbirth by obtaining detailed information from live birth controls
A follow-up study to determine the number of women who have had subsequent pregnancies and/or complications following a stillbirth, to evaluate how well women who have had a stillbirth are able to resolve their grief, and to examine whether life-course stresses and environmental factors are associated with an increased risk of stillbirth
Network Sites
Brown University
Emory University
University of Texas Medical Branch at Galveston
University of Texas Health Science Center at San Antonio
University of Utah
RTI International is the DCC for the SCRN.
Publications
Bukowski R, et al. Fetal growth and risk of stillbirth: a population-based case-control study. PLoS Med 2014, 11(4): e1001633. doi:10.1371/journal.pmed.1001633. PMID24755550.
Hogue CJR, et al. A population-based case-control study of stillbirth: the relationship of significant life events to the racial disparity for African Americans. Am J Epidemiol 2013;177:755-767. PMID23531847.
Parker CB, et al. Stillbirth Collaborative Research Network: design, methods and recruitment experience. Paediatric and Perinatal Epidemiol 2011;25:425-435. PMID21819424.
Pinar H, et al. Placental findings in singleton stillbirths. Obstet Gynecol 2014;123:325-336. PMID24402599.
Reddy UM, et al. Karyotype versus microarray testing for genetic abnormalities in stillbirth. New Engl J Med 2012;367:2185-2193. PMID23215556.
Silver RM, et al. Antiphospholipid antibodies in stillbirth. Obstet Gynecol 2013;122:641-657. PMID23921873.
Stillbirth Collaborative Research Network Writing Group. Association between stillbirth and risk factors known at pregnancy confirmation. JAMA. 2011 Dec 14;306(22):2469-79. PMID22166606.
Varner MW, et al. Association between stillbirth and illicit drug use and smoking during pregnancy. Obstet Gynecol 2014;123: 113-125. PMID24463671.
More Information