Overview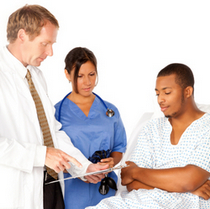 The MRHR Career Development Program was established in 2006 to advance the career development of clinicians who specialize in male reproductive health. The program aims to increase the clinical research capacity of practitioners in male reproductive biology and promote the translation of basic research to clinical practice.
The MRHR Career Development Program is modeled after the Women's Reproductive Health Research (WRHR) Career Development Program, which prepares health scientists for a career in women's reproductive health research.
The program accomplishes its goals through a mentoring program, which bridges clinical training with research independence. Under the program, established investigators mentor supported trainees as the trainees perform basic or clinical research, to enhance their ability to conduct independent peer-review research by the end of their training period. The NICHD Fertility and Infertility (FI) Branch funds the MRHR Program through a Mentored Clinical Scientist Development Program Award mechanism (K12).
Topic Areas
The MRHR Career Development Program supports research training and career development of urologists, reproductive endocrinologists, and other clinicians. It supports programs that encompass basic, translational, and/or clinical research relevant to male reproductive health.

Possible research topics include (but are not limited to):
Identifying the biological and molecular bases of idiopathic male infertility.
Improving diagnostic methods for male infertility, particularly rapid screening methods that can be widely applied in a clinical setting; this area would include the identification of biomarkers to assess sperm quality.
Evaluating potential male contraceptive modalities, including hormonal, immunological, and mechanical agents or agents based on novel targets.
Analyzing the long-term health effects of synthetic hormonal therapies used as contraceptives, as well as the reproductive health effects of therapeutic hormone replacement in men.
Analyzing the reproductive health effects of toxic environmental factors and the effect these factors may have in the health of subsequent generations (i.e., transgenerational inheritance).
Evaluating the efficacy and reproductive health effects of nutritional supplements and herbal treatments.
Analyzing the effect of paternal age on male fertility potential and the health of offspring.
Evaluating the long-term effect of sexually transmitted diseases, prostatitis, and other infections of the genitourinary tract on male fertility and reproductive health.
Identifying and/or evaluating the efficacy of novel treatments for male sexual dysfunction, including erectile dysfunction and premature ejaculation.
Current Sites
Baylor College of Medicine
More Information