Overview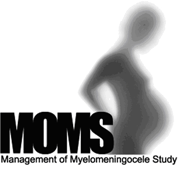 The Maternal-Fetal Surgery Network was created in 2001 in response to the rising number of maternal-fetal surgeries for nonlethal conditions, such as myelomeningocele, despite a lack of evidence that the benefits of in utero surgery outweighed the increased risks to the woman and her fetus. NICHD's Pregnancy and Perinatology Branch (PPB) supports the Maternal-Fetal Surgery Network, which includes three fetal surgery sites, plus a data coordinating center (DCC). A PPB program scientist provides oversight and guidance to the network and its sites.
Topic Areas
The primary aim of the network was to conduct a randomized clinical trial to evaluate in utero surgery versus standard post-natal surgery to repair myelomeningocele, the most severe form of spina bifida. Its primary study, the Management of Myelomeningocele Study (MOMS), was a collaborative, multicenter trial that began in 2003.
The results, published in The New England Journal of Medicine, showed that children who had received in utero surgery between weeks 19 and 25 of gestation were one-third less likely to die or require a ventriculo-peritoneal shunt. Surgery also reduced by one-third the presence of hind brain herniation and doubled the number of children who could walk independently; however, there were significant complications, including dramatically higher rates of preterm birth. Learn more about the findings at https://www.nichd.nih.gov/newsroom/resources/spotlight/021011-spina-bifida-MOMS.
The network is now conducting a follow-up study, MOMS 2, to evaluate outcomes at ages 5 to 8 years. Specifically, the study will determine whether prenatal repair of myelomeningocele affects adaptive behavior, cognitive functioning, motor level and function, brain morphology and microstructure, urologic health, and other aspects of the health of the child at school age. The study will assess the need for shunts and assistive devices, developmental milestones, and bowel and bladder function in these children. In addition, the impact of prenatal surgery on the reproductive health of the mother and on family well-being will be evaluated.
Network Sites
Children's Hospital of Philadelphia
University of California, San Francisco Benioff Children's Hospital
Vanderbilt University Medical Center
The George Washington University Biostatistics Center serves as the DCC for the network.
More Information