The NCS Archive provides researchers with access to data and samples collected in the NCS Vanguard Study, which tested methods and procedures planned for use in a large epidemiological cohort study of environmental influences on child health and development. Select a link below to learn more:
About the NCS Archive
The NCS Archive offers two levels of access to the research community.
Level 1: Registered Users Only
Level 1 enables researchers to learn more about the NCS and to determine whether the available data are relevant and useful for their research projects.
With Level 1, registered users will be able to access downloadable, restricted-use datasets and supporting documentation, and other documents related to data collection. Level 1 users will also have access to reports generated by the NCS on topics specifically relevant to collecting data on children's health.
Additional resources available to those with Level 1 access include:
De-identified Downloadable Operational Data – Child, Mother, Father
Sample Inventories

Participant Samples (Adult and Child)

Blood
Breastmilk
Cord blood
Hair
Meconium
Nails
Placenta
Saliva
Umbilical cord
Urine
Vaginal swabs

Environmental Samples (from Participants' Homes)

Air filter
Dust (from vacuum bags, wipes, etc.)
Water

Research Tools

Data Collection Instruments
Protocol Documents
Study Variable and Dataset Inventories

Frequently Asked Questions (FAQs)
Registered users can also propose new research projects in which to use NCS data. An online NCS research tracker system enables easy tracking and management of projects and proposals. This system will allow registered users to:
Enter and track research proposals
Manage documentation and submit reports
Request targeted NCS datasets
Request samples/specimens for local analysis
Communicate with Archive staff
Level 2: Researcher Portal
Level 2 is meant for researchers who have a specific research question and need access to participant data to conduct the research. The Researcher Portal contains analysis software and a virtual data enclave of detailed participant data.
Level 2 access requires submission of a research plan and other information to ensure that NCS data are protected and used in accordance with the terms of participant consent.
Level 2 researchers with approved projects will be able to analyze NCS data on secure virtual workstations within a supported Researcher Portal. They will also have access to operational data files, instrument data files, codebooks, and sample inventory files to complete their projects.
Vanguard Study Overview
The NCS Vanguard Study enrolled nearly 6,000 children and their parents at 40 locations around the country. It collected data in multiple phases: Initial Vanguard Study, Alternate Recruitment Substudy, Provider-Based Sampling Substudy, and Post-Recruitment Follow-Up. The first three phases were defined by the recruitment strategy. The last phase continued data collection for all enrolled participants and did not recruit new participants. It also evaluated five different recruitment strategies: one in the initial phase, three in the second phase, and one in the third phase.
Figure 1 below depicts the phases of the NCS Vanguard Study.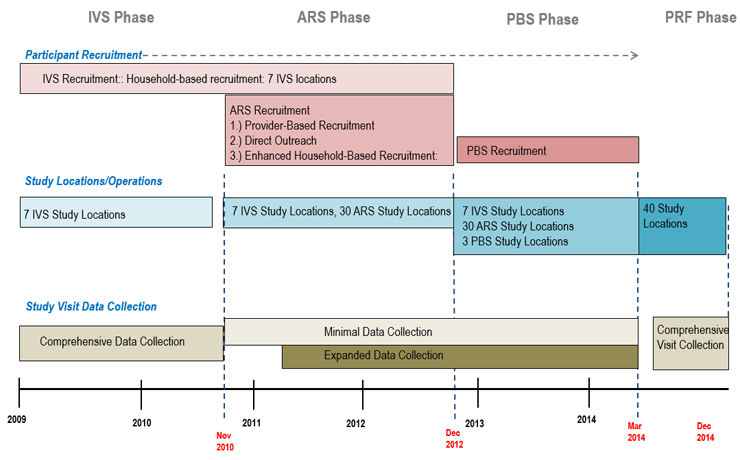 Key: IVS = Initial Vanguard Study; ARS = Alternate Recruitment Substudy; PBS = Provider-Based Sampling; PRF = Post-Recruitment Follow-Up
Please refer to the National Children's Study Archive: Study Description and Guide (PDF - 1.4 MB) for a more detailed summary of the scientific basis and operations of the NCS Vanguard Study.
Available data
Data collected in the NCS Vanguard Study will be available through the NCS Archive over time. The figure below describes the major types of data planned for release, according to the phase of the Vanguard Study and the time period of data coverage.
Figure 2: Data Types Available by Vanguard Study Phase, Participant Group, and Time Covered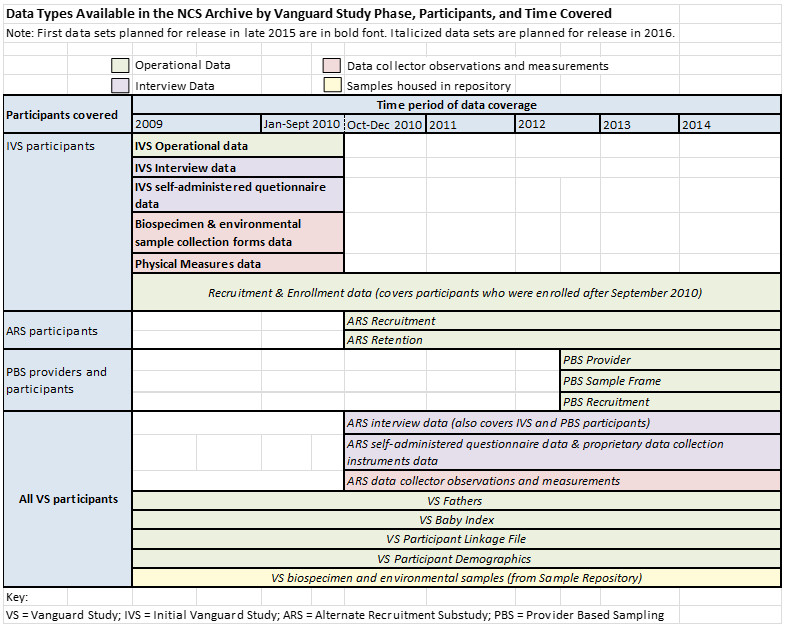 For the data release in May 2016, the following data files are available in the Researcher Portal:
Table 6a: Number of IVS Data Files by Data Collection Type and Participant Type
| Data Collection Category | Woman | Child | Father | Other | Total |
| --- | --- | --- | --- | --- | --- |
| Prenatal Interview* | 6 |   | 1 |   | 7 |
| Postnatal Interview* | 3 | 3 |   |   | 6 |
| Physical Measures | 1 | 1 | 1 |   | 3 |
| Fetal and Neonatal Assessment | 3 | 1 |   |   | 4 |
| Self-Administered Questionnaires | 8 | 5 |  1 | 1 | 15 |
| Biospecimen Collection forms | 5 | 7 | 2 |   | 14 |
| Environmental Sample forms |   |   |   |  14 | 14 |
| Master Operational Dataset | 1 | 1 | 1 |   | 3 |
| Special Analysis Datasets | 1 |   | 1 |   | 2 |
| Total | 28 | 18 | 7 | 15 | 68 |
Table 6b: Number of ARS Data Files by Data Collection Type and Participant Type
Data Collection Category
Woman
Child
Father
Other
Total
Screening interview
3
 
 
 
3
Prenatal Interview*
5
 
 
 
5
Postnatal Interview* (up to 18 month visit)
4
6
 
 
10
Physical Measures
 
1
 
 
1
Self-Administered Questionnaires
3
 
 
 
3
Master Operational Dataset
2
1
1
2
6
Demographic Dataset**
1
1
Biospecimen Lab Results Dataset**
4
4
Environmental Lab Results Dataset**
11
11
Total
 
44
*Interview specific to each study visit. Interview data from study visits at child's age from 24 to 42 months and any other remaining analytic data files will become available in late 2016.
**Dataset spans over all data collection phases including IVS, ARS, and PBS
Note: The above data files are created at the participant level with the exception of the sample dataset. Additional data files from "interviews" exist that are constructed at the event or entity level when reported in a repeating and detailed manner.
Register for access to the NCS Archive
Select the link below to register for access to the NCS Archive.
Data Request Quick Guide
These Quick Guides (PDF - 563 KB) will help users navigate the NCS Archive.
Types of material on the NCS Archive
Registered users of the NCS Archive will have access to the following types of materials:
Study visit databases for mother, child, and father participants
Instruments and data user materials
Sample inventory, including a summary of biospecimen aliquots and environmental samples
Study procedures
IVS Protocol
Protocol schedule and content of assessments by study visit and phase
Tools for navigating the protocol and data
Various reports, including white papers and reports on specific scientific topics, and reports on NCS workshops and events
The application for accessing the researcher portal
Frequently Asked Questions for researchers