Kyla Roland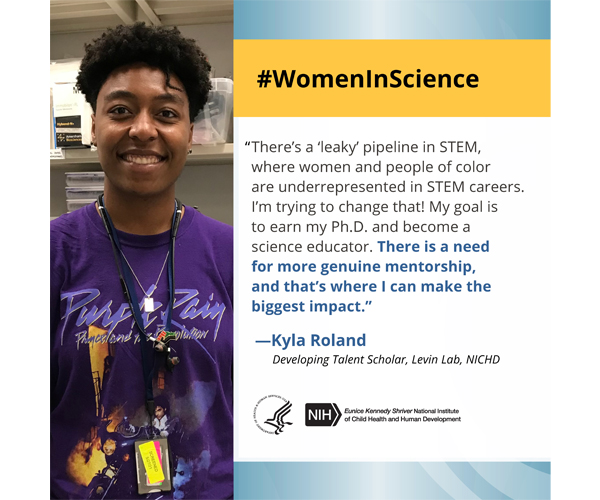 Kyla Roland is a trainee who is part of NICHD's Developing Talent Scholars Program. She wants to earn her Ph.D. and become a science educator to encourage diversity in science, technology, engineering, and mathematics.
Learn more about Kyla Roland.
Elodie Mailler, Ph.D., M.Sc.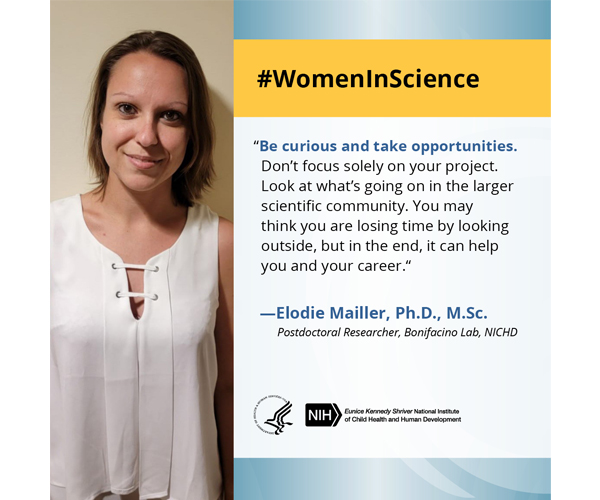 Dr. Elodie Mailler is a molecular and cell biologist who currently studies autophagy, the intricate process that enables a cell to recycle unused or unnecessary components.
Learn more about Dr. Mailler.
Vasilisa Aksenova, Ph.D.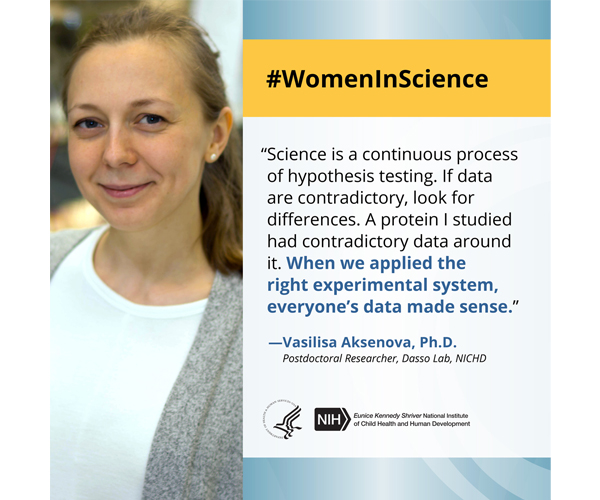 Dr. Vasilisa Aksenova studies nuclear pore complexes, which regulate what enters and exits the nucleus, and the expression of genes, among other key roles.
Learn more about Dr. Aksenova.
Stephanie Lehman, Ph.D.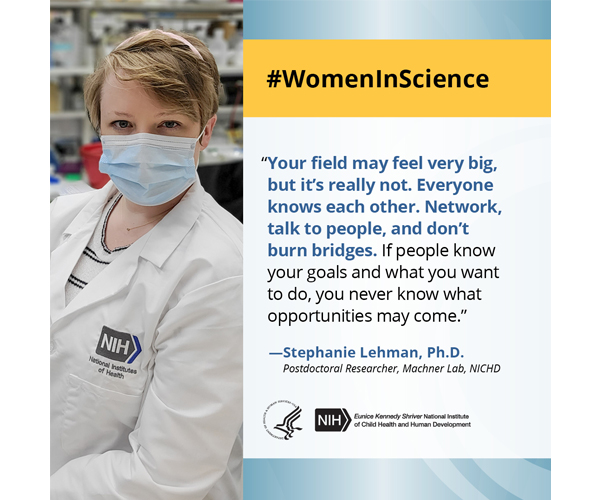 Dr. Stephanie Lehman came to NICHD to diversify her skills in infectious disease research. She uses Legionella pneumophila as a model organism to study how bacteria that threaten public health and safety infect cells and cause disease.
Learn more about Dr. Lehman.
Leah Greenspan, Ph.D.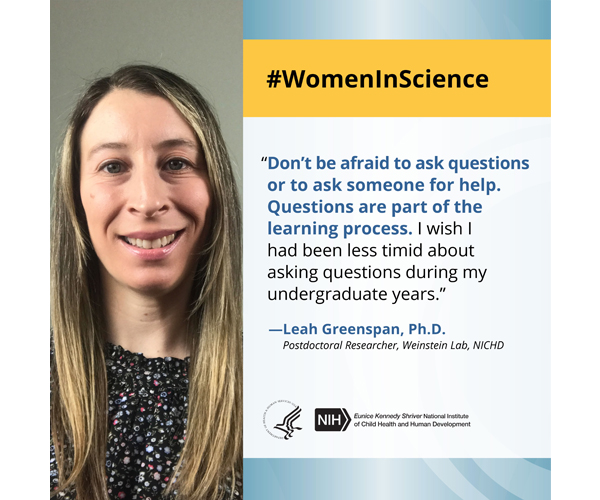 Dr. Leah Greenspan uses zebrafish as a model organism to understand how blood vessels regrow and restore blood to tissue after injury.
Learn more about Dr. Greenspan.
Aisha Burton, Ph.D.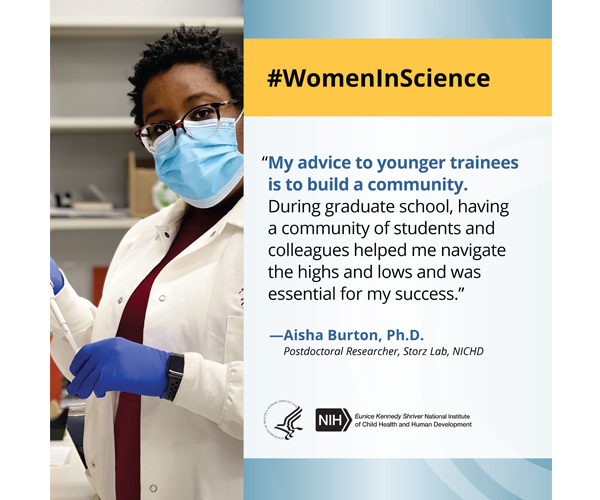 Dr. Aisha Burton studies how small proteins regulate the stress response in E. coli. She also is part of NICHD's Fellows Recruitment Incentive Award program, which promotes diversity among postdoctoral researchers by encouraging principal investigators to recruit diverse early stage scientists.
Learn more about Dr. Burton.
Laura Pillay, Ph.D.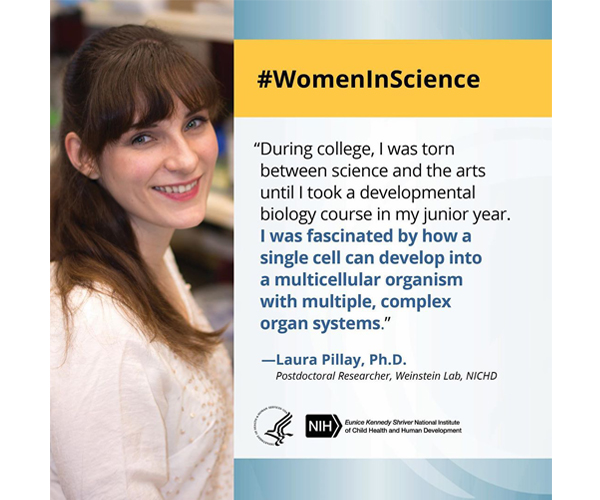 Dr. Laura Pillay studies the genetic and molecular mechanisms that regulate blood vessel development and integrity (i.e., what makes vessels "leaky") in the brain.
Learn more about Dr. Pillay.
Marion Ouidir, Ph.D., M.Sc.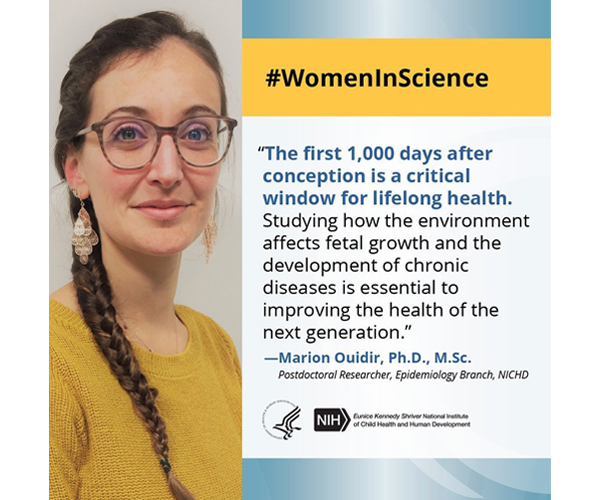 Dr. Marion Ouidir studies how environmental exposures affect fetal growth and the development of chronic metabolic diseases, such as diabetes and high blood pressure.
Learn more about Dr. Ouidir.
Perdita Taylor-Zapata, M.D.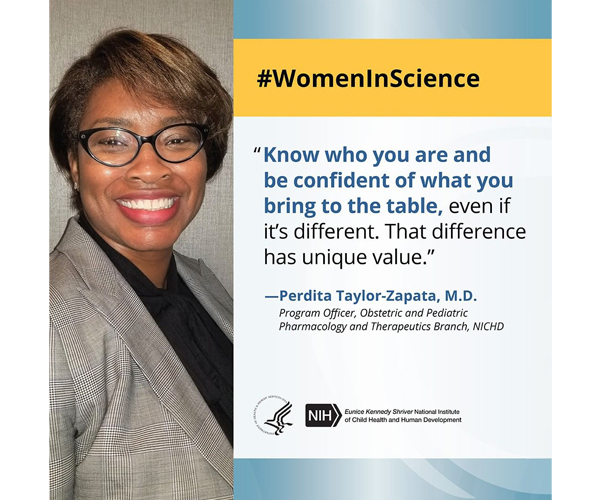 Dr. Perdita Taylor-Zapata oversees projects on pediatric drug development. This includes the Best Pharmaceuticals for Children Act program, which helps doctors prescribe drugs for children in the safest and most effective ways.
Learn more about Dr. Taylor-Zapata.
Candace Tingen, Ph.D.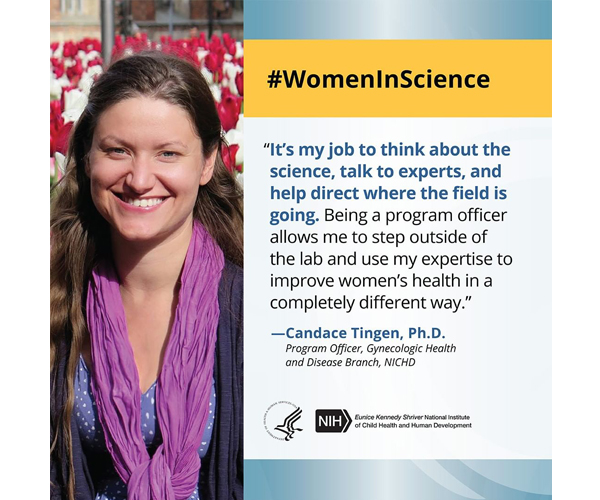 Dr. Candace Tingen oversees research grants focused on female reproductive health and gynecologic conditions, including uterine fibroids and menstrual disorders.
Learn more about Dr. Tingen.
Back to Women in Science Profiles.