Keewan Kim, Ph.D.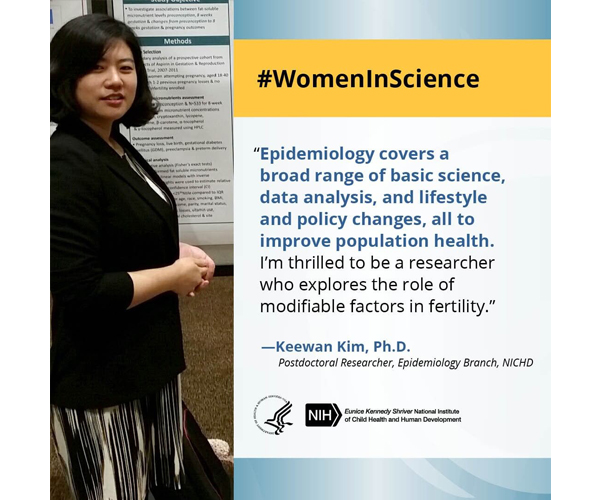 Dr. Keewan Kim explores how nutritional and environmental factors influence couples' fertility, including pregnancy, pregnancy loss, and live birth. Her work addresses questions common to couples who are pregnant or are trying to become pregnant.
Learn more about Dr. Kim.
Marina Venero Galanternik, Ph.D.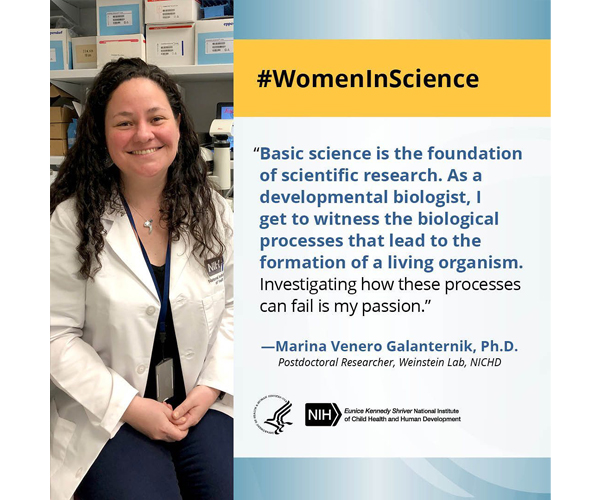 Dr. Marina Venero Galanternik's work focuses on vessels in the meninges—the protective membranes that line the brain and spinal cord. Problems in the meninges can disrupt the blood-brain barrier and allow harmful substances or disease-causing microbes to enter.
Learn more about Dr. Venero Galanternik.
Amrita Mandal, Ph.D.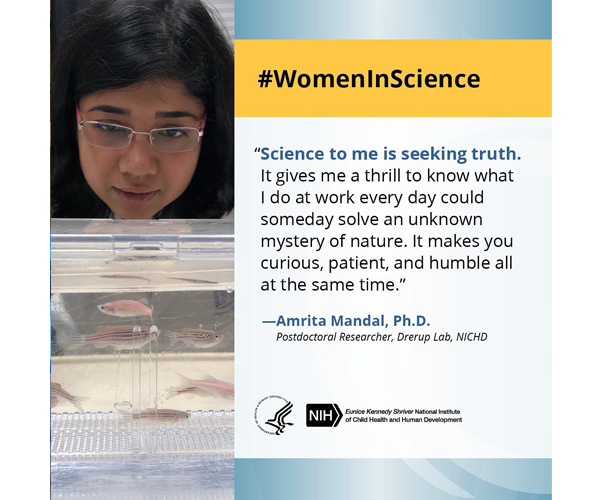 Dr. Amrita Mandal is a postdoctoral researcher currently studying mitochondria, an organelle that supplies cells with energy. Abnormal mitochondrial health is associated with neurodegenerative diseases such as Alzheimer's and Parkinson's.
Learn more about Dr. Mandal.
Carrie Nobles, Ph.D.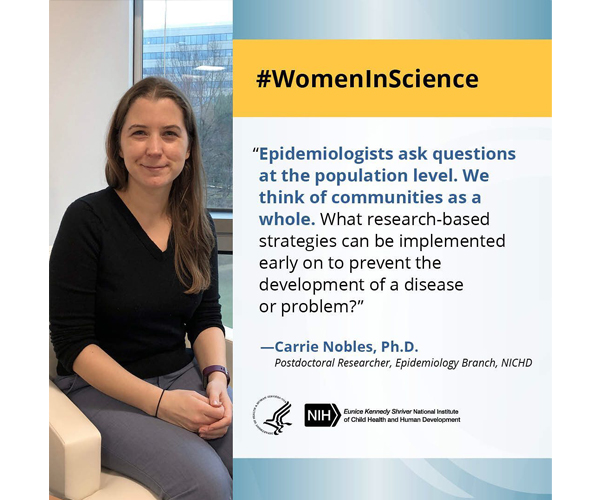 Dr. Carrie Nobles is a postdoctoral fellow who studies how environmental factors, such as air pollution and extreme temperatures, affect reproduction and pregnancy.
Learn more about Dr. Nobles.
Marissa Lightbourne, M.D., M.P.H.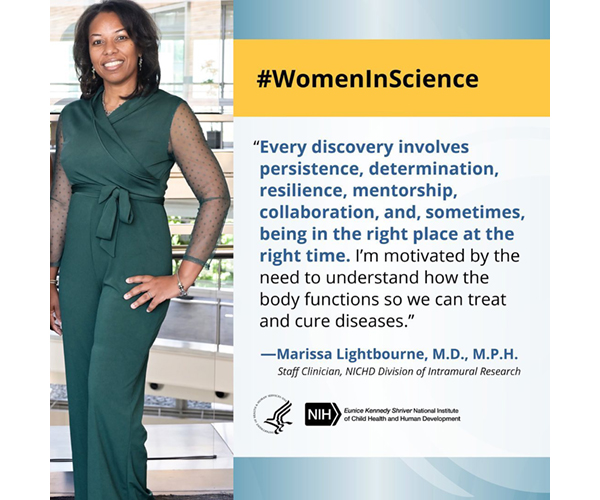 Dr. Marissa Lightbourne leads a new clinic at NIH that helps teenagers and young adults with endocrine disorders transition from pediatric care to adult care.
Learn more about Dr. Lightbourne
.
Anshika Jain, Ph.D.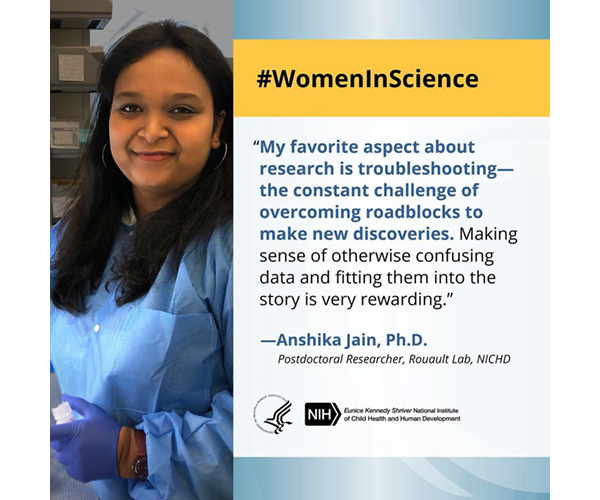 Dr. Anshika Jain studies a rare disease called multiple mitochondrial dysfunction syndrome, or MMDS.
Learn more about Dr. Jain
.
Yvette Pittman, Ph.D.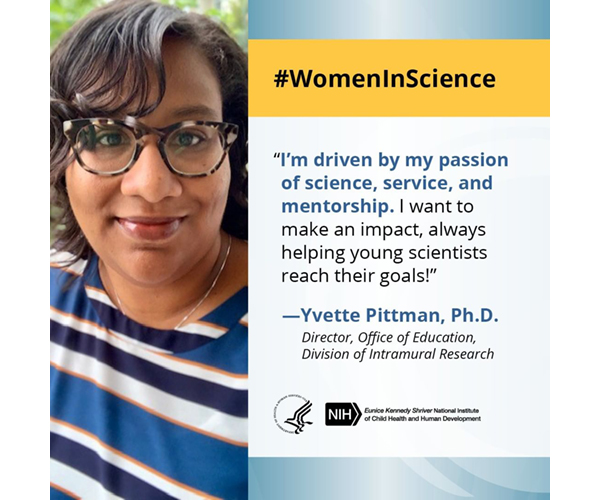 Dr. Yvette Pittman is the director of DIR's Office of Education, which supports the training needs of scientists, postdocs, postbacs, and graduate and summer students who work in NICHD laboratories.
Learn more about Dr. Pittman
.
Jing Yu, Ph.D.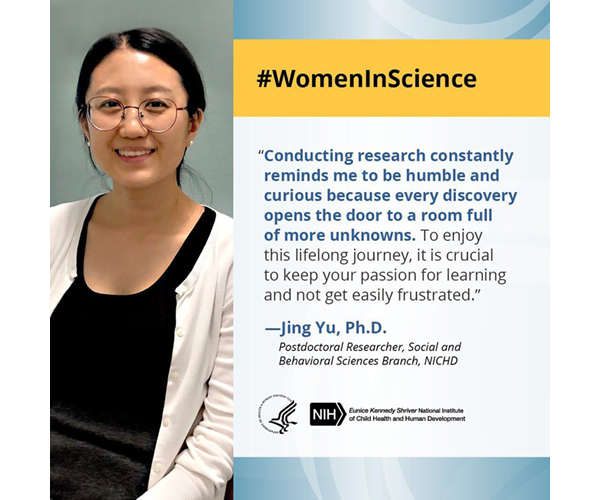 Dr. Jing Yu studies how racial and socioeconomic disparities affect early child development.
Learn more about Dr. Yu
.
Alejandra Boronat-Garcia, Ph.D.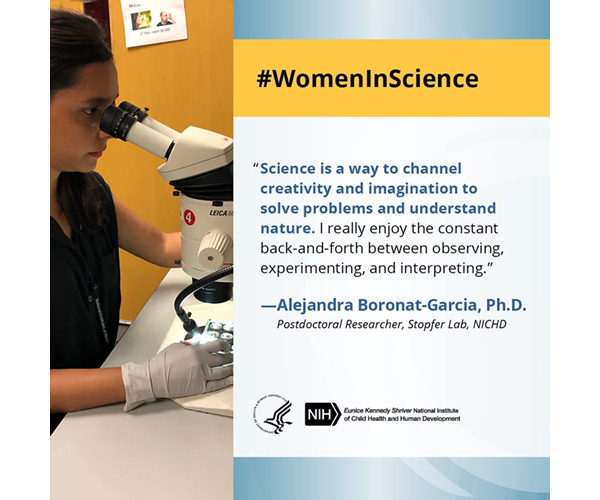 Dr. Alejandra Boronat-Garcia explores how the brain gathers, transforms, and organizes sensory information, a process that allows people and animals to know what is happening in their environment.
Learn more about Dr. Boronat-Garcia
.
Larissa Erben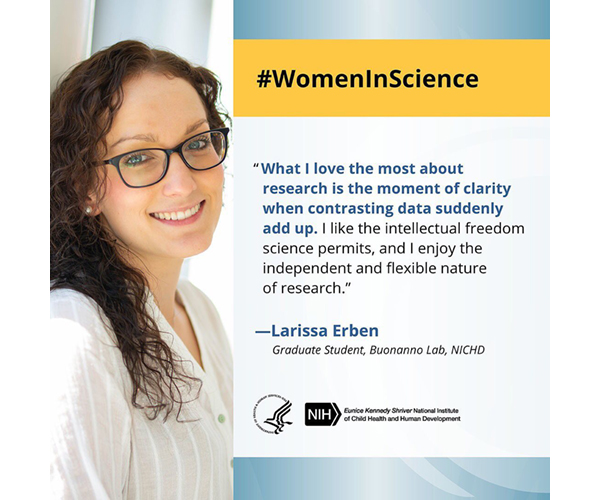 Graduate student Larissa Erben studies how neurons in the brain communicate using the Neuregulin/ErbB4 signaling pathway. Genetic differences in these two proteins can increase a person's risk for schizophrenia.
Learn more about Larissa Erben
.
Back to Women in Science Profiles.