Image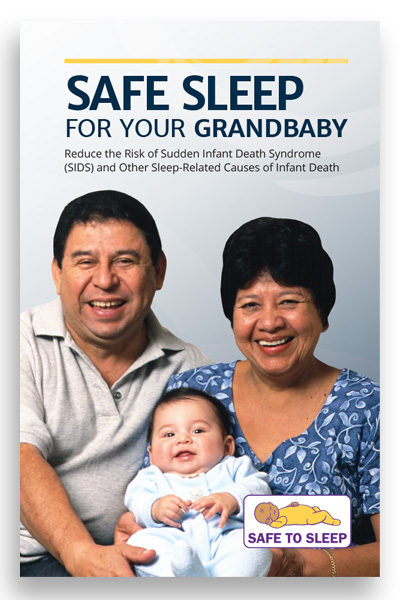 Start a conversation about safe infant sleep using this Safe to Sleep® booklet to show "how" and tell "why." The booklet helps parents, grandparents, other trusted caregivers, and providers work together to help babies sleep safely.
This 20-page booklet, part of the Safe to Sleep campaign, explains the latest safe sleep recommendations to grandparents and other trusted caregivers so they can help reduce their grandbaby's risk of Sudden Infant Death Syndrome (SIDS) and other sleep-related infant deaths, such as accidental suffocation. It is intended as a starting point for conversations about safe infant sleep and shows safe sleep environments and other safe sleep practices in action.
Preferred Citation:
Eunice Kennedy Shriver
National Institute of Child Health and Human Development, NIH, DHHS. (2017). Safe Sleep For Your Grandbaby: Reduce the Risk of Sudden Infant Death Syndrome (SIDS) and Other Sleep-Related Causes of Infant Death (17-HD-4978). Washington, DC: U.S. Government Printing Office.
Download PDF