Research Shows that Children Feel the Effects of Having a Combat-Deployed Parent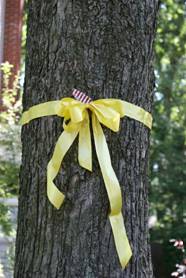 The wars in Afghanistan and Iraq have affected and continue to affect the lives of numerous Americans.  These conflicts affect not only the millions of service men and women who have deployed since the wars began, but also the families they leave behind at home.  According to the Marine Corps Times, more than 2 million children in the United States have been affected by deployments for recent wars.
Media reports explain the toll deployment takes on the soldiers.  But what about the toll these deployments take on children and families here at home?  How do children and families handle having a parent in a war zone?  What happens when that parent returns home?
A recent NICHD-funded study examined the effects on children aged 6 to 12 of parental combat deployment, with a focus on children's behavior and emotional functioning.  Led by Dr. Patricia Lester, The Long War and Parental Combat Deployment: Effects on Military Children and At-Home Spouses, which won the 2010 Norbert and Charlotte Rieger Award for Scientific Achievement from the American Academy of Child and Adolescent Psychology, found that a parent's combat deployment has an adverse effect on children that increases the longer the parent is away.  More importantly, these effects remain even after the parent returns home.
"This study is unique in its focus on child development and emotional function," said Dr. Valerie Maholmes, director of the NICHD's Social and Affective Development/Child Maltreatment & Violence Program, which supported the study.  "Most previous studies of the impact of parental combat deployment have focused on marital stress and the family as a whole.  This important study sheds light on what the children are experiencing and on how these experiences affect their development."
Dr. Maholmes' Program, part of the Child Development and Behavior Branch, supports research that considers specific physical, social, and environmental factors—such as exposure to violence—on the health and psychological development of infants, children, and adolescents.  This research includes studies of child development in high-risk settings, including families experiencing stressors such as military deployment, combat-related trauma, and unemployment. 
"Children in these types of situations are dealing with serious emotions and feelings," Dr. Maholmes said.  "These emotions can have long-term impacts on a child's behavior and well-being."
Past studies on this topic have assumed that the most difficult period for a child is during the parent's absence.  Dr. Lester's study reveals that a child's reaction is more complex—children's anxiety levels can remain high even after the parent has returned.  In the study, one-third of children reported "clinically significant" levels of anxiety (meaning their anxiety was severe enough to warrant attention from a health care provider), regardless of whether their active duty parent was currently deployed.
Children weren't the only ones feeling anxiety.  The children's high levels of anxiety coincided with high levels of anxiety and distress in the parent who stayed at home.  The study found that the longer the deployed parent was away, the higher the stress level was for the parent at home.  But again, the story doesn't end when the deployed parent returns home.  The study found that 23.5 percent of enlisted active duty parents tested positive for post traumatic stress disorder after returning from deployment.
This research opens the door to further studies on the effects of long-term troop deployment on families and children.  For example, such studies could examine the specific worries and problems of children whose parent(s) is combat deployed.  These types of studies will be especially important as more service men and women are deployed multiple times and spend longer amounts of time away from their children, potentially at important times in childhood development.
Determining the relationship between specific childhood behaviors and the deployment of a parent is important and can help shape interventions to support military families and help ease family distress.  Within a broader context, combining this knowledge with other research findings about how children are affected by other stressors, such as unemployment, poverty, even marital conflict, can enable parents, families, and health care providers to help children thrive in various difficult situations.
For more information, select one of the following links:
Originally posted: July 30, 2010