Supporting and conducting research to improve outcomes in TBI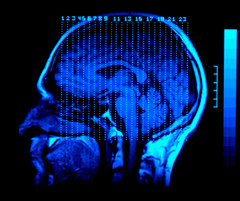 In early December 2009, the National Football League announced stricter guidelines for managing concussions, a mild form of TBI. These new guidelines reflect our increased understanding that the brain is fragile, and that even "mild" TBI can have serious short- and long-term effects. During this Brain Injury Awareness Month, we recognize the important work from decades of research on brain injury, including efforts supported by the NICHD's National Center for Medical Rehabilitation Research (NCMRR). Since it was established in 1990, the NCMRR has supported research to better understand what happens in various types of brain injury and what types of interventions are safe and effective for treating TBI and related problems.
TBI is a major health issue in the United States and worldwide. According to the Centers for Disease Control and Prevention, 1.4 million U.S. people sustain a TBI each year; of those, 50,000 die and more than 200,000 are hospitalized. TBI encompasses injuries ranging from mild to severe and can affect thinking or memory, movement or mobility, speaking or understanding, and personality or mood. You might hear about TBI being on the rise among members of the armed forces and others serving or working in areas of conflict, such as Afghanistan and Iraq. But more-common events, such as car accidents, falls, and sports collisions, can also cause TBI with a range of effects.
Research on TBI has always been a part of the NCMRR mission, but the Center began more focused efforts on the topic in 2000. These included pilot clinical trials to test medications for children who experienced TBI. Although some medications had shown promise in treating TBI symptoms in adults, little was known about the dosages or effects of these medications in children. The NCMRR supported six pilot studies, which then set the stage for larger clinical trials of promising treatments for children. The NCMRR also provided grants for three research teams to plan and conduct clinical trials of pediatric rehabilitation.
The NCMRR also supports TBI research through investigator-initiated projects. For example, the Center funds an ongoing clinical trial comparing the outcomes of methylphenidate (better known as Ritalin®) to memory and attention training, and to a combination of the medication and training for TBI rehabilitation. Another NCMRR-funded project is studying the effects of home-based care for pediatric TBI patients in Latin America, where the incidence of TBI is three times the world average. The same project is also developing a data registry and improving the research infrastructure for future pediatric TBI research in Latin America. Another project funded by the Center is testing whether treadmill training, which can help improve mobility and movement in patients who experienced stroke and spinal cord injury, can also improve outcomes for TBI patients.
In recent years, the NCMRR's TBI and Stroke Rehabilitation Program has also undertaken several large initiatives and many smaller studies to understand the many facets of TBI and its rehabilitation. For example, the NCMRR-funded Traumatic Brain Injury Clinical Trials Network includes researchers at several academic medical centers working together to conduct clinical studies with those affected by TBI. Among the Network's many accomplishments is the development of clinical treatment guidelines for the entire continuum of TBI care, starting with pre-hospital acute care, through surgery, physical therapy, speech-language pathology, and other types of rehabilitation. These comprehensive guidelines are the first of their kind for TBI. The Network also developed guidelines for measuring the outcomes of TBI clinical trials, including a core of nine measures that cover functional and cognitive recovery. These types of guidelines enable TBI care providers to more reliably measure effects and outcomes and provide evidence on which decisions can be based.
One initiative of the Network is the Citicoline Brain Injury Trial (COBRIT). One of few large clinical trials conducted with people who experienced TBI, COBRIT researchers are working to determine whether taking a 90-day course of citicoline can help people recover from mild, moderate, or severe TBI. Previous studies showed that citicoline, a compound made by the human body, protects nerve cells in people who have experienced stroke, but its effects on other types of brain problems are unknown. More than 700 people are already enrolled in the study, taking place at eight academic medical centers.
In addition to the Network and its investigator-initiated portfolio, the NCMRR recently opened an exciting avenue of TBI research: investigation of drug therapy combinations. For any single patient, TBI is a complex disorder that evolves over time. For that reason, the most likely route to successful intervention might be treating TBI with multiple medications. Following a 2008 workshop on the opportunities and challenges of combination therapy, the NCMRR announced that it would fund research on the interactions among drug candidates for treating TBI's effects. This new initiative will provide the lab-based data necessary to determine which drug combinations are most effective in preventing the long-term effects of TBI. The most promising treatment combinations could then be tested in clinical studies.
Through this initiative, the NCMRR funded six projects on the following topics:
Improving the efficacy of progesterone (which has shown benefits in clinical experiments with patients with TBI) with vitamin D supplementation
Protecting neurons using 11 different medications, which rely on different mechanisms for effectiveness
Improving outcomes of children and adolescents with TBI using two experimental medications thought to protect against brain injury
Using medications to help an antioxidant drug get into the brain and spinal fluid
Combining an immune suppressor with dietary choline supplementation, both of which showed promise in animal experiments of TBI treatment
Combining an immune suppressor and an anti-inflammatory drug to improve outcomes in pediatric TBI
In addition to the direct problems it causes, TBI is also associated with secondary conditions, which can be equally problematic and often require additional treatment. For example, many people who have experienced TBI also suffer from depression. In some cases, the depression is situational—resulting from the patient's acknowledgement of the limitations caused by the TBI; but in other cases, the injury itself causes chemical imbalances that lead to depression. NCMRR-supported research is following people who have had TBI to answer questions about who later develops major depression, what antidepressant therapies help, and what doses are effective.
For those recovering from TBI, rehabilitation typically includes cognitive therapy—a category of activities designed to retrain a person to think, use judgement, and make decisions and to improve memory, attention, perception, learning, planning, and judgment abilities. But scientists and heath care providers don't know how effective these activities really are, or what their long-term outcomes might be. To learn more, the NCMRR is supporting a clinical study to obtain evidence-based data about how cognitive rehabilitation methods affect patients with severe cognitive problems resulting from TBI.
The NCMMR is not alone in its efforts to understand TBI and its rehabilitation. Other NIH Institutes, government agencies, and non-profit organizations also strive to provide evidence about and services for those who have experienced TBI and their families. The NICHD has compiled the following Resources Related to TBI (PDF - 166 KB) to help people find the information they need. This list is by no means all inclusive, but provides a good starting point for those looking for information on and services related to TBI.
This spotlight included descriptions of just a few TBI-related projects that receive support from the NCMRR. As people begin to understand that even a "mild" TBI can have a more-than-mild impact, the NCMRR and other organizations will continue researching all forms of TBI and its rehabilitation. This research will, in turn, provide evidence about what works best for treating these types of injuries to improve outcomes for those with TBI and their families.
For more information about the NCMRR and its work in TBI, please select one of the links below:
Originally Posted: March 25, 2010