NICHD is now on Pinterest

. With about one in four American adults using Pinterest to access and share information, this new page is an opportunity to effectively communicate with the public about NICHD's important research and educational initiatives. Visitors can explore visual, engaging content on a range of topics, from healthy pregnancy to safe infant sleep to Down syndrome. A selection of infographics and videos outline key NICHD research findings and can be easily shared on social media, websites, and by email.
If you use Pinterest, please follow us and help spread the word.
https://www.pinterest.com/NICHD_NIH/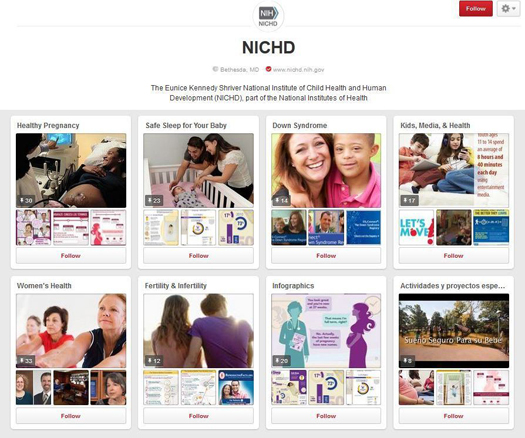 ###
About the Eunice Kennedy Shriver National Institute of Child Health and Human Development (NICHD): The NICHD sponsors research on development, before and after birth; maternal, child, and family health; reproductive biology and population issues; and medical rehabilitation. For more information, visit the Institute's website at http://www.nichd.nih.gov/.