The exact cause of endometriosis is not known, but researchers have some theories.
The female reproductive organs are shown with red patches representing endometriosis. The arrows indicate that the menstrual flow is going backwards into the fallopian tubes instead of out of the body as it should.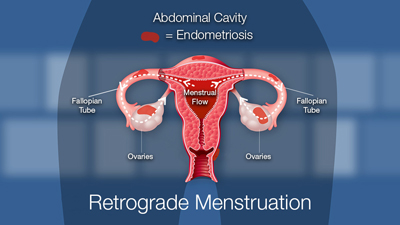 One theory suggests that endometriosis may result from something called "retrograde menstrual flow," in which some of the tissue that a woman sheds during her period flows through her fallopian tubes into her pelvis. While most women have some retrograde menstrual flow during their periods, not all of these women have endometriosis. Researchers are trying to uncover what other factors might cause the tissue to attach and grow in some women, but not in others.1,2
Researchers believe that endometriosis likely results from a combination of factors, including (but not limited to) some of the following:
Because endometriosis runs in families, genes are probably involved with endometriosis to some degree.
Estrogen (a hormone involved in the female reproductive cycle) also likely contributes to endometriosis, because endometriosis is an estrogen-dependent, inflammatory disease.
In endometriosis, the endometrium may not respond as it should to progesterone, another hormone involved in the female reproductive cycle. This means that the endometrium has "progesterone resistance."
In some cases of endometriosis, the immune system fails to destroy endometrial tissue, which enables it to grow outside the uterus. This means immune system dysfunction plays a role in these cases.
NICHD's Endometriosis: Natural History, Diagnosis, and Outcomes (ENDO) Study conducted by the Division of Intramural Population Health Research examines risk factors associated with endometriosis. The study has found evidence of increased risk of endometriosis associated with environmental exposures:
Citations
---
How many people are affected by or at risk for endometriosis?
What are the symptoms of endometriosis?
How do health care providers diagnose endometriosis?