Catherine Y. Spong, M.D.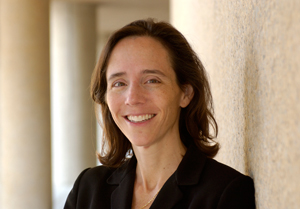 Dr. Catherine Spong is the Deputy Director of NICHD.  As Deputy Director, Dr. Spong assists the Director in overseeing the Institute's programs supporting research on child development, developmental biology, nutrition, AIDS/HIV, intellectual and developmental disabilities, population issues, reproductive biology, contraception, pregnancy, and medical rehabilitation.
Prior to these positions, Dr. Spong served as Acting Director of NICHD and she was the inaugural NICHD Associate Director for Extramural Research and Director of the NICHD Division of Extramural Research. She also served for more than a decade as Chief of NICHD's Pregnancy and Perinatology Branch. 
Dr. Spong received her M.D. from the University of Missouri-Kansas City (UMKC) in 1991. After serving as Chief Resident in Obstetrics and Gynecology at the Harbor-UCLA Medical Center, she began her career at NICHD as a Maternal-Fetal Medicine Fellow, including clinical work at Georgetown University. Then, she became a Clinical Associate and Senior Staff Fellow in NICHD's intramural research program. Among Dr. Spong's areas of expertise are maternal and child health, emphasizing prematurity, fetal complications, and improving child outcomes. One of her major research interests has been the developing fetus. She holds several patents for neuroprotective agents that help prevent fetal injury.
Dr. Spong is board-certified in maternal-fetal medicine and obstetrics and gynecology. She is an Editor of William's Obstetrics, Management of High Risk Pregnancy, Protocols of High Risk Pregnancy, and Stillbirth: Prediction, Prevention and Management. She has received numerous research awards, including the Society for Maternal-Fetal Medicine Achievement Award, the UMKC Alumnus of the Year Award, and a Surgeon General's Certificate of Appreciation for her work on prematurity. She has published more than 270 peer-reviewed papers and been featured on national television and radio, including The CBS Early Show, the Diane Rehm Show, NPR's All Things Considered, CNN, and Voice of America, discussing women's health and pregnancy topics.