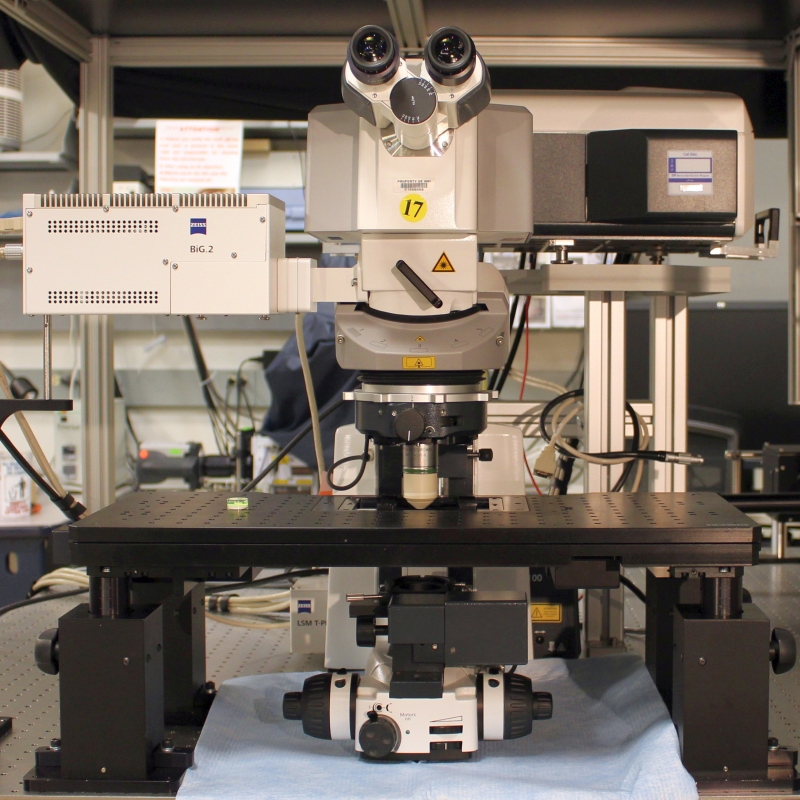 The Zeiss 880 2-photon is designed for physiology experiments that requires deep penetration in tissues that only 2-photon infra-red excitation can provide. 
Laser lines: 405, 458, 488, 514, 561, 594 and 633 nm
Spectra-Physics Mai-Tai HP laser: 690-1040 nm, pulse < 100 fs, 2.5W at 800 nm.
Detectors: 1 PMT, 1 34-channel GAsP spectral, 1 cooled PMT
2-photon detectors: 2 GAsP PMT (BIG) or 2 GAsP PMT (nosepiece)
Emission filters: 370-740 nm continuous, green / red cubes on IR
Objectives: 20x/1.0 W Plan Apochromat (w, dunking), 20x/1.0 W Plan Apochromat (w, coverslip), 40x/1.0 W Plan Apochromat (w, dunking)
(additional special-purpose objectives are available on request. Use extenders with all regular 45 mm objectives)
Visible and infra-red DIC available
Live tissue slices: temperature and gas control via perfusion
Live animal microscopy requires an animal protocol, extensive experience in the surgery involved, and a heavy experimental setup. Consult the staff before starting any project. 
Prior z-deck customizable xy stage
Multi-location and tiles fully supported (tiling quality may be limited by the nature of the xy stage)